Office of Professional Development and Academic Support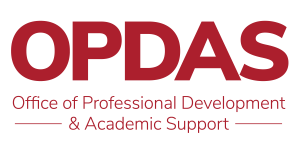 OPDAS operates with an inclusive philosophy grounded in the principles of leadership, innovative scholarship and pedagogy, and institutional sustainability. OPDAS supports faculty, staff, and lecturers through consistent informational and interactive workshops that ultimately benefit our 21st-century UHWO student learners. OPDAS engages faculty, staff, and lecturers as an evolving community committed to teaching and learning excellence in Hawai'i (po'okela).
Values:
Commitment to educational excellence (Po'okela).
Collaboration between faculty and staff across ranks and disciplines, including the assessment of activities and the solicitation of feedback (Laulima).
Connecting people and units across the campus in an effort to elevate our work and ensure institutional success (Kauhale).
Embracing indigenous ways of knowing in addition to the best practices and traditions of academia ('Ike Kūhohonu).
Goals:
To serve as a centralized site for the convergence of professional development activities and
knowledge as well as best practices in higher education.
To provide orientation and mentoring services to faculty and staff and new hires in
particular.
To support the career trajectories of our faculty and staff members as they work to obtain
tenure and promotion, broaden their current skill sets, and/or implement new practices
and initiatives on our campus.
To remain attentive and flexible in meeting the professional development needs of faculty
and staff through the continuous implementation of surveys and assessment tools.
To foster an environment of collegiality in which campus employees are well informed and
cooperative so that campus units can work in unison to create the optimal educational
environment for our students.
To ensure the retention of faculty and staff members through a range of professional
development activities and support programs that help ground them in a sense of place
and purpose.
Office of Professional Development and Academic Support
University of Hawaiʻi–West Oʻahu
91-1001 Farrington Highway
Kapolei, HI 96707
opdas@hawaii.edu