E Ala Pono – Academic Progress Check
Pre-E Ala Pono Alert Process
The Pre-E Ala Pono Alert process for faculty involves first informing students about this early alert program, identifying struggling students in need of additional help or support, working with them on the issues they may have in your class and submitting an E Ala Pono progress update in the event that faculty interventions have been unsuccessful in week 3, and week 7 of the semester.
Pre-E Ala Pono Process for Faculty
Tracking Student Progress
Follow these instructions to complete the E Ala Pono Progress Update 1:
1. Go to E Ala Pono Progress Update 1.
2. Log in using your UH Username and Password.  Select the Course Alpha, Number, Title and CRN that you want to complete.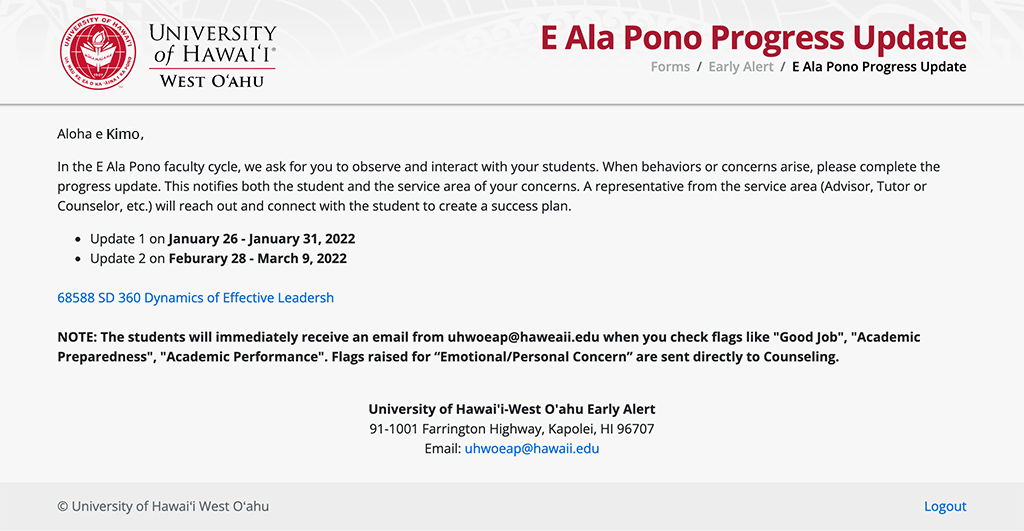 3. Check the applicable boxes in the column that applies for each student – either a positive message such as "Keep up the good work" or an issue about which you are concerned.  When you check the box for "Academic Preparedness, Academic Performance or Emotional/Personal Concerns" a comment box appears.  Please add details for each student.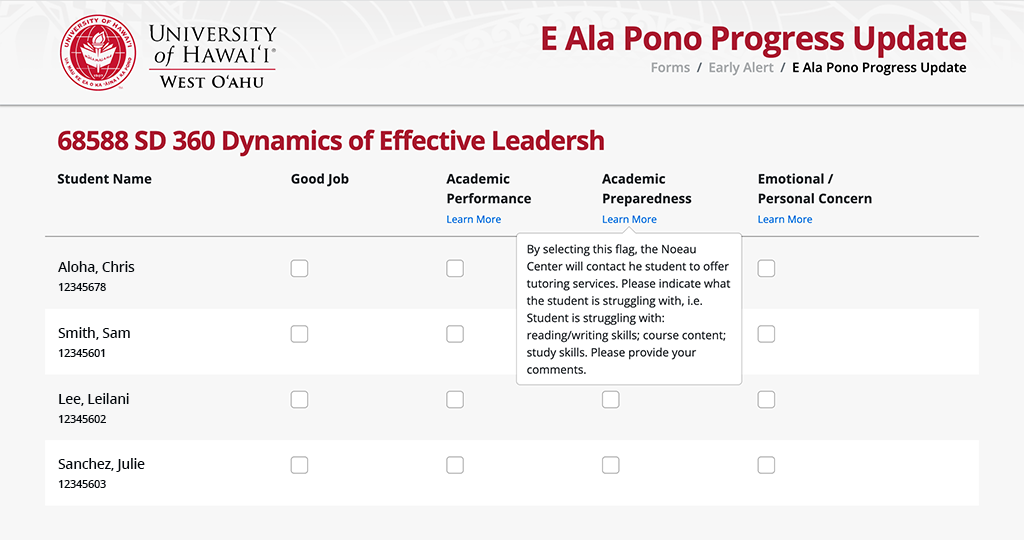 4. Click Submit at the bottom of the page. If you have more than 1 course section, the next class roster will be displayed until you have Submitted all your course sections. Please make sure to complete each section before the end date stated in the email.
NOTE:  the students will immediately receive an email from uhwoeap@haweaii.edu when you check flags like "Good Job", "Academic Preparedness", "Academic Performance". Flags raised for "Emotional/Personal Concern" are sent directly to Counseling.
Thank you for your partnership and commitment to supporting our student's success. Please feel free to contact us with any questions or concerns by emailing us at uhwoeap@hawaii.edu.
Alerts and Referrals
Alert Flags (Student's View)

Faculty Definitions

Student Affairs Service Area

Academic Performance
Attendance Check
Student has excessive absences 3 or more unexcused; stopped attending: initially attended, stopped attending and unresponsive; no show. Student has not uploaded assignments, participated in required chats or discussion boards. Has not responded to email inquiries.

Advising

"Attendance Check" indicator will be available week 3 on MySuccess.

Academic Performance
At risk for failing the course

Student is at risk for failing the course because of: missed tests/ quizzes/ assignments and low performance; lack of participation; excessive absences 3 or more unexcused; stopped attending: initially attended, stopped attending and unresponsive; no show

(Comment Box: Please describe the student's academic performance issues that might be impairing their ability to succeed.)

Advising

"At risk for failing the course" indicator will be available week 7 on MySuccess.

Academic Preparedness
Struggling with course content
Student is struggling with: reading/writing skills; course content; study skills
No'eau Center
Supportive Consult Recommended

Emotional/Personal Concerns: Student has shared issues inside or outside of the classroom related to:family, work, medical issues, disability and/or disruptive behavior.

(Comment Box: Please describe the student's emotional/personal issues that might be impairing their ability to succeed.)

Counseling Services
Kudo
Keep up the good work!
Student is doing well in the course and making progress!
none