The baccalaureate programs delivered through Distance Education have been established as transfer programs for students who have completed the first two years of coursework (freshman and sophomore) in-person at UH West Oʻahu, from a community college in the UH system or from an accredited institution outside of the UH System.
West Oʻahu offers online coursework in many of the most popular areas of study. After completing lower-division coursework in-person and online at UH West Oʻahu and/or a partnering University of Hawai'i Community College, or transfer credits have been accepted from another institution, students may pursue UH West Oʻahu's distance learning upper-division coursework in select concentrations in Business Administration, Public Administration, or Social Sciences entirely online.
*UH West Oʻahu does not offer fully online-only degree programs. Lower-division coursework needs to be completed via in-person and online classes at UH West Oʻahu, UH Community Colleges, or accepted as transfer credits from an accredited institution outside of the UH System. 
Distance learning programs are delivered through various modalities:
Online Courses – Courses are taught completely online via the internet. Students access course material from their personal computers. Most online courses use Laulima, the course management and collaboration system for the University of Hawai'i. Online courses may be entirely asynchronous or may require synchronous meeting times via video conferencing software. Online courses that require synchronous class sessions will have the synchronous meeting dates and times listed in the Schedule of Classes.
Interactive Television – Some UH West Oʻahu courses are taught for residents of the neighbor islands through Interactive Television (ITV), using classroom facilities provided by Kauaʻi Community College, Maui Community College, and the University Education Centers at Lana'i, Molokaʻi, and West Hawai'i. Students meet at the ITV receive sites to participate in classes.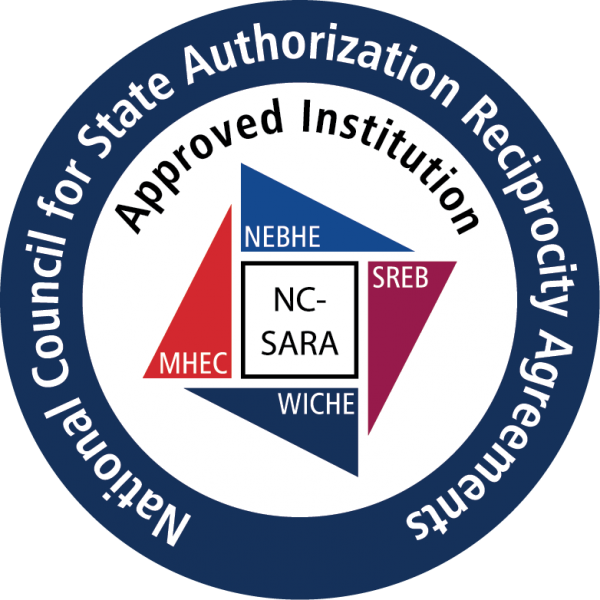 UHWO is an institutional member of NC-SARA
Distance Learning degree programs offer the upper-division or "concentration" portions of select degree programs.
Lower-division degree requirements of Distance Learning degree programs are not guaranteed to be offered through online modes of delivery.
Five concentrations offered as Distance Education programs.
The General Creative Media concentration is offered as a Distance Education program.
Integrating various media domains, such as design, storytelling, and technology, the general creative media concentration provides study and extended practice in the student's chosen area of competence. Course requirements address development and maintenance of existing artistic skills; foster support for a broader understanding of related disciplines including humanities and technology; and provide experience in working in multidisciplinary teams on realistic problems.
Six concentrations are offered as Distance Education programs.
Three concentrations are offered as Distance Education programs.
The Bachelor of Arts in Social Sciences with a concentration in Early Childhood Education program focuses on Early Childhood Education (birth through age eight) from a theoretical orientation and places the field within broader social, historical, political, and cultural contexts. Coursework in other areas of the social sciences provides a foundation for students to critically examine early education and childcare.
Early Childhood Education students will examine how parents and other family members work collaboratively with teachers to build a learning and home environment that stimulates curiosity through informal educational opportunities. The principles of quality education, multiculturalism, critical thinking, and reflective teaching are infused in all major coursework. The courses are designed to build a strong sense of social justice while also educating all students from diverse backgrounds and inspiring teachers as agents of change. Courses are taught in-class and through distance learning instruction, and in partnership with associate's degree programs in Early Childhood Education at Hawai'i Community College, Honolulu Community College, Kaua'i Community College, and UH Maui College.
Political science at UH West O'ahu is distinctive in the inclusiveness of its concerns. It differs from the other social sciences in drawing from all the disciplines, from psychology and anthropology to history and philosophy, in offering a 'big picture' perspective on our public and private lives. The discipline goes beyond simply understanding the way things are, to an ethical consideration of 'what could and should be.' In this sense a political science education is transformational, enlightening the political culture and strengthening democracy. Today the big picture allows us to see our most pressing local problems as increasingly influenced by global economic and environmental forces in a world where multinational corporations are becoming more powerful than nation-states. At the same time there is a move back to localism in all its positive and negative aspects from place-based community building and identity politics to xenophobic ethnic nationalism and militant sectarianism. New electronic information technologies and social media are giving individuals and non-governmental organizations unprecedented access to the global stage in shaping politics. The goal of the program is to offer students an in-depth understanding of this rapidly changing landscape as a frame for self-understanding. In so doing, it helps students cultivate the motivation, skills, and creativity necessary for constructive participation in public life through civic engagement. Teaching strategies are personalized and promote holistic, democratic, active, service and multi-cultural modes of learning. All of this makes Political Science at UH West Oʻahu central to a well-rounded education. This also gives the degree wide application in most areas of public, personal, and work life.
Students pursuing a Bachelor of Arts in Social Sciences with a concentration in Political Science will be encouraged to take an interdisciplinary and diverse selection of courses. Teaching is in-person and online. Students who have completed all lower division course credits may complete a bachelor's degree in Political Science at UH West Oʻahu entirely online.
Psychology is the study of mind and behavior. UH West O'ahu offers a Bachelor of Arts in Social Sciences with a concentration in Psychology that integrates practical mental health applications with current theory. Students select courses from four clusters: human development; social psychology; experimental psychology; and clinical and applied psychology. The program culminates with a final senior seminar capstone course that is designed to guide students in the research and writing of a review paper on a topic of psychology. Through these course offerings, students will gain a strong understanding of psychological theory and methodology, while developing effective analytical and interpersonal skills. Courses are offered in-class and through distance learning instruction.
Gloria Niles, PhD
Director of Distance Education
808-689-2497
Char Hopela
Instructional Designer
(808) 689-2769