Kani Kūola Music Festival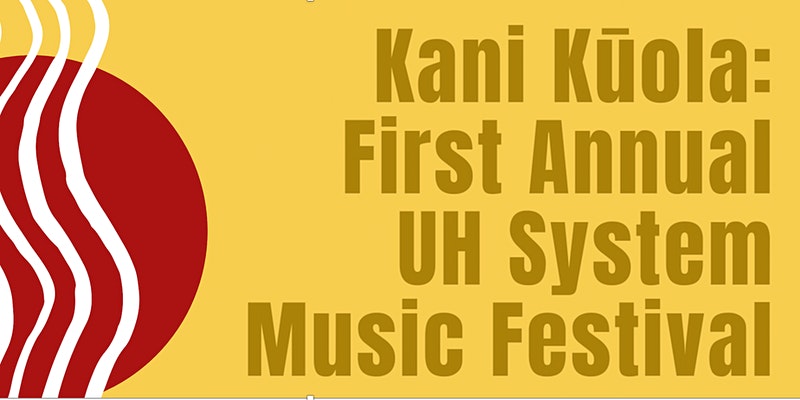 Saturday, April 9, 2022 @ UH West Oʻahu
All events free
(As of March 26, 2022, the proof of vaccination requirement has been SUSPENDED for in-person participation.  Please see UH–West Oʻahu campus Guidelines for updated information.)
KANI KŪOLA:  Annual UH System Music Festival brings live-giving music creation, performance, and education to the regional communities of UH System Music programs around the pae 'āina (archipelago). The host campus for this first Festival year is the University of Hawaiʻi – West Oʻahu campus in Kapolei.
In this ONE-DAY FESTIVAL, faculty from UH System Music Programs invite the community to enjoy educational workshops, masterclasses and panels with music industry professionals, and performances by students, community members, and guest artists.
FESTIVAL UPDATE: Lunch and dinner items will be available on-site from Da Spot. (Healthy food that "broke the mouth not the wallet") 
Music Education Workshops (all levels welcome!)
Hourly in-person and Zoom sessions available from 10:00AM, 11:00AM; and 12:00PM
LUNCHTIME HOʻOKANI KULANUI (1:00-3:00pm)
INDUSTRY PANELS (3:00-5:00pm)
MASTERCLASSES: (3:00-5:00pm)
SONGWRITERS' OPEN MIC
(4:00-5:45pm)
A LULLABY SHARING: The Hawaiʻi Lullaby Project 2022
(6:00-8:00pm)
MORE ABOUT THE FESTIVAL:
Kamaʻāina (longtime residents) and malihini (visitors) alike will surely enjoy practicing the art of kanikapila during the Lunchtime Ho'okani Kulanui event, featuring the nahenahe style of singing and playing of Raiatea Helm, Bobby Moderow, and Kamuela Kimokeo. Bring your instrument and voice, and join in! (Chords will be projected on a screen for all to play along.)
Another special event is the Songwriters' Open Mic, where you'll hear tomorrow's artists play new originals.
The Festival culminates with a final evening concert showcasing the power of music creation in the community. The Hawaiʻi Lullaby Project 2022, with support from the national project of Carnegie's Weill Music Institute, brings you a final sharing concert with new lullabies created by artist-facilitators and parents from our partner organizations Adult Friends for Youth and the Mary Jane Home of Catholic Charities.
Mahalo nui to this year's supporters, including the Hawaiʻi State Foundation on Culture and the Arts (SFCA), the Hawaiʻi Tourism Authority (HTA), the Institute for Research and Engaged Scholarship of UH West Oʻahu, and the UH West Oʻahu Music Fund. The KANI KŪOLA: Annual UH System Music Festival will rotate to a new campus host every year. Our next hosts include Windward Community College (2023) and UH Maui College (2024).