Learn more about the many years of music experience our UH West Oʻahu Music faculty bring to the classroom.
Adjunct faculty member Erik Haines holds a Master of Music Degree from the University of Hawai'i at Mānoa. He has taught at UH Mānoa, Chaminade University, Windward Community College, and Punahou Music School. Since 1992 he has worked for the Hawaii Opera Theatre (HOT) where he is currently Director of Education. He has appeared in more than 28 productions with HOT including Prince Yamadori in Madama Butterfly, The Mandarin in Turandot, and roles in The Magic Flute, Carmen, Romeo and Juliette, and many other operas. Erik has been the president and governor for the National Association of Teachers of Singing – Hawaii Chapter, a board member of the Hawaii Alliance for Arts Education, and is Vice-President of the Mililani Aikido Club. He currently serves as the voice instructor for the Hawaii Youth Opera Chorus.
Dr. Michael-Thomas Foumai
Music, Sound and Media, Music Theory, Music Writing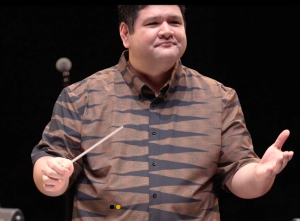 Adjunct faculty member Dr. Michael-Thomas Foumai teaches courses in Creative Media  and Music, and is the Director of Artistic Engagement and the first Composer in Residence for the Hawai'i Symphony Orchestra (HSO). His music, described as "vibrant and cinematic" (New York Times) and "full of color, drama, and emotion" (Milwaukee Journal Sentinel), encompasses an extensive catalog of symphonic music, spanning commercial arranging to the avant-garde, and focuses on the culture of his Hawaiʻi home. Dr. Foumai's orchestral works have been conducted and performed by Yannick Nézet-Séguin with the Philadelphia Orchestra, Lidiya Yankovskaya with the Los Angeles Philharmonic, Lina Gonzalez-Granados with the National Symphony Orchestra, Sarah Hicks and the Seattle Symphony, George Manahan with the American Composers Orchestra at Carnegie Hall, Osmo Vänskä with the Minnesota Orchestra, and with Dane Lam, Mei-Ann Chen, JoAnn Falleta, Hans Graf, Earl Lee, Rei Hotoda, Anthony Parnther, Andrew Grams, and Scott Yoo with the Hawaiʻi Symphony Orchestra. In addition, Dr. Foumai designs and hosts the HSO education series Beyond the Music; he is the program notes annotator for the HSO Masterworks series and is the principal HSO arranger for guest artists who have included Yo-Yo Ma, Jake Shimabukuro, Raiatea Helm, Amy Hānaialiʻi, and Robert Cazimero. His honors include a Fromm Foundation Grant from Harvard University, the MTNA Distinguished Composer of the Year Award, the Jacob Druckman Prize from the Aspen Music Festival, and three BMI composer awards. Dr. Foumai holds multiple degrees in music composition from the University of Hawai'i at Mānoa (BM) and the University of Michigan (MM, DMA).
Traditional and Popular Music
Adjunct faculty member J.W. Junker teaches traditional and commercial music. Open to all majors, Junker's courses examine music as creative expression, commercial enterprise and meaningful cultural event. They tend to focus on issues relating to cultural preservation, cultural exchange, artistic choice and the effects of technology.  Outside the university, Junker serves as Executive Director of the nonprofit National Organization for Traditional Artists Exchange. He also sits on the board of the Friends of the Royal Hawaiian Band. Since the early 1980s he has worked closely with many of Hawaii's greatest traditional musicians in a variety of genres. Junker believes live performance is vitally important in our media-saturated society. He has helped organize numerous concerts, festivals, workshops, school performances and opportunities for master artists to teach in a one-to-one setting. At the same time he understands that recording allows for wider diffusion and a lasting means of documenting artists and their art. Credits in the music, radio, television and film industries are also numerous. Highlights include serving as a music consultant for major motion pictures as well as writing and producing feature documentaries, such as Kuʻu Home: Hawaiian
Songs of Home and The Dixie Hummingbirds: Eighty Years Young. With Stuart Yamane Junker created the popular series Na Mele for Hawaiʻi Public Television. Radio programs he created for Hawaiʻi Public Radio
include Na Mele O Hawaiʻi (co-hosted with Haunani Apoliona), Pacific Visions (hosted by Kealiʻi Reichel); Musics of Hawaiʻi, and Hawaiian Boogie, which explored and celebrated links between blues, country, jazz, pop, gospel and related styles from around the globe. Junker also contributes articles on music to local, national and international publications, including the Grove and Garland music encyclopedias. He has served as a consultant to the Smithsonian Institution, the National Endowment for the Arts; the Hawaiʻi State Foundation on Culture and the Arts, the Doris Duke Charitable Foundation, the Honolulu Museum, the Lyman Museum, the BBC; Swiss National Radio; Channel Four UK; NHK; National Public Radio; and more. Two of his favorite sayings, which he manages to work into lectures every semester, are "Music is never made in a vacuum" and "America's music is more democratic than America's people."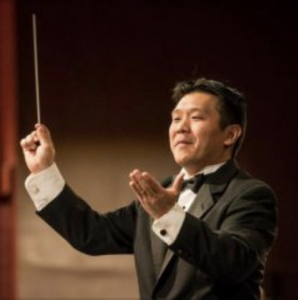 Adjunct faculty member Chadwick Kamei is a graduate of the University of Hawaiʻi at Mānoa, where he holds a Bachelor of Science and Masters of Arts in Music Education. He has directed UH West Oʻahu's University Band since 2013 and held the title of Director of Bands at Pearl City High School since 2007. Maestro Kamei has worked in many areas of music education, directing middle school, high school and university bands, and has also toured his ensembles to places such as Beijing, China, Hamamatsu, Japan, London, England and Chicago performing in prestigious festivals and parades. He has served in many organizations, including the National Band Association (State Chair), Hawaiʻi Saxophone Association (Vice-President), American Society of Band Directors Association (State Chair), and the Oahu Band Directors' Association (Board Member). An inductee of the prestigious American Bandmasters Association, Maestro Kamei was also awarded the John Philip Sousa Foundation Legion of Honor in 2016 as one of the 10 best band directors in the U.S. He co-directs the UH West Oʻahu University Band with Mr. Michael Nakasone.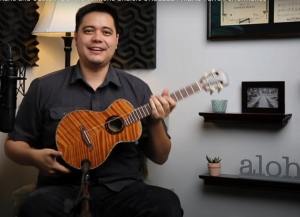 ʻUkulele instructor Mika Kane is a professional 'ukulele player and Kamaka/Ko'olau artist from O'ahu, Hawai'i. Mika received a Bachelor's Degree in Music with an 'Ukulele focus and a Masters Degree in Educational Foundations from the University of Hawai'i at Mānoa. Mentored by many of Hawai'i's finest musicians, including Dr. Byron Yasui, Benny Chong, Bryan Tolentino, and Ian O'Sullivan, Mika has a prolific background in Classical techniques and interpretation, musical awareness, and music theory with Jazz harmonies. He mostly specializes in fingerstyle playing, adding relevant music theory concepts from his university studies to create a clean, one-of-a-kind sound.
As an educator following in the footsteps of his mentor Dr. Byron Yasui, Mika recently finished teaching in-person 'ukulele classes at The Hawai'i Youth Correctional Facility for four (4) years and is currently lecturing in 'ukulele at The University of Hawai'i West O'ahu and Windward Community College. Mika also teaches private online lessons with students from all over the world. In his free time, he does side work for TheUkuleleSite and UkuleleFriend. He also occasionally gigs professionally with Na Hoku Hanohano Award Winner Kala'e Camarillo at various hotels around O'ahu and at private weddings and functions.
Dr. Katy Luo, pianist, is a lecturer in music at both the University of Hawai'i at Mānoa and the University of Hawai'i–West O'ahu. For the last 20 years, she has taught and performed extensively throughout the US, mostly in New York City, where she resided for 14 years. Her performing experience ranges from the works of the classical masters performed on period instruments to the works of Cage, Ligeti, Schnittke, and other contemporary composers. Known for her innovative programming, she has presented programs such as the horn trios of Brahms and Ligeti at the Staller Center for the Arts, and a collection of dance suites by Bach, Albeniz, Schoenberg, and Cage at the Bloomingdale School of Music. Past concerts have also included: "Tradition Begins, Tradition Ends," which showcased the music of Bach and Stockhausen; "Recompositions," a re-appraisal of pre-existing musical styles in the works of Henze, Berg, and Dwarka; and "Remaking the Past," which explored modern masters in the role of arrangers and included works by Stravinsky, Bach, Mozart, Arvo Pärt, and Dominico Gallo.  Katy's past collaborations have included a performance of the Shostakovich Piano Quintet at the 2011 Nantucket Atheneum Dance Festival with the New York City Ballet, the Sunday recital series at the Cathedral of St. John the Divine with members of the Boys Choir of Harlem, a program of saxophone music from 1930s Berlin at the Goethe Institute with film composer Christian Biegai, and for the last three years, with Guerrilla Composers Forum in three world premieres by composers Danny Clay and Nicholas Benavides at the San Francisco Conservatory of Music's Hot Air Music Festival.  Originally from the San Francisco Bay area, she now lives in Honolulu. She is an alumna of the Young Musicians Program, a community outreach music program at the University of California at Berkeley. Her passion for and commitment to community organization led to her involvement formerly at the Boys Choir of Harlem and at the Bloomingdale School of Music, where she was both Resident Teaching Artist and the Director of A4TY (Album for the Young): Student New Music Project, a program she founded to provide children the opportunity to compose original compositions for fellow young musicians and to premiere works written by living composers. This program was a recipient of the National Endowment for the Arts Grant.  Katy holds a bachelor of music from Oberlin Conservatory of Music and master of music and doctor of musical arts degrees from the State University of New York at Stony Brook. Katy's principle teachers have included Jacqueline Chew, Monique Duphil, Haewon Song, and Gilbert Kalish.
Dr. Jon Magnussen (Program Coordinator)
Songwriting, Audio Production, Ensembles, Music Technology, Music Literature, Music Theory, Music Writing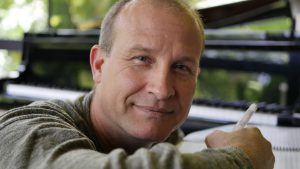 Dr. Jon Magnussen's music has been described as "hauntingly beautiful" (Salt Lake Tribune), "beautifully textured" (NY Times), and "thoughtful… deeply imaginative" (L.A. Times). Composed for the concert hall, drama, dance and film, his music has been commissioned and performed nationally and internationally by organizations including American Ballet Theatre, American Composers Orchestra, Chamber Music Hawaiʻi, Ebb and Flow Arts, ETHEL (string quartet), Haven Trio, Hawaiʻi Youth Opera Chorus, Hawaii Youth Symphony, Honolulu Symphony, The Juilliard School, Limón Dance Company (NYC), Lula Washington Dance Theatre, New York New Music Ensemble, New Juilliard Ensemble, New York Percussion Quartet, New York Virtuoso Singers, The Shakespeare Theatre (Washington, D.C.), and St. Luke's Chamber Ensemble. His compositions have been funded by organizations including the Argosy Foundation, Chamber Music America with support from The Andrew W. Mellon Foundation, The Aaron Copland Fund for Music, Honolulu Mayorʻs Office on Culture and the Arts, Kosasa Foundation, Library of Congress, Meet the Composer, National Endowment for the Arts, and the Gladys Krieble Delmas Foundation. His recordings appear on the Albany and CMH labels. Recent collaborative projects include Pākaʻa Lanakila! (a Hawaiian-style "Peter and the Wolf") for Chamber Music Hawaiiʻs Spring Wind Quintet and Hawaiian-language narrator; and TWINGE, a chamber work for Haven Trio based on Barry Bearak's New York Times article "The Day the Sea Came". Magnussen holds degrees from The Juilliard School, Conservatoire Nationale Supérieure de Musique de Paris and Cornell University. He was Artist-in-Residence at the Institute for Advanced Study in Princeton from 2000 to 2007, and is currently Professor of Music at University of Hawai'i–West O'ahu, where he was awarded the 2018 Regents' Medal for Excellence in Teaching.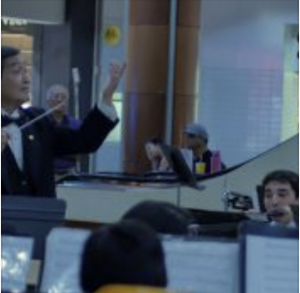 A graduate of Hilo High School, Mr. Nakasone earned Bachelor of Science and Masters of Arts degrees in Education from the University of Hawaiʻi at Mānoa, and was Director of Bands at Pearl City High School where he headed one of Hawaiʻi's best known high school music programs for 28 years. A music educator with the state Department of Education for a total of 37 years, Maestro Nakasone has been named Teacher of the Year by the State Department of Education, and under his leadership, the Pearl City High School Band received the Sudler Flag of Honor from the John Philip Sousa Foundation and was invited to the prestigious Midwest Band and Orchestra Clinic in Chicago. In addition, he took the Pearl City Band to a number of out-of-state venues including the Macy's Thanksgiving Day Parade in New York and the Tournament of Roses Parade in California. In 2005, Maestro Nakasone became the 18th Bandmaster of the Royal Hawaiian Band since its inception in 1836. An inductee of the prestigious American Bandmasters Association, he was also awarded the John Philip Sousa Foundation Legion of Honor in 1995 as one of the 10 best band directors in the U.S.  Maestro Nakasone co-directs the UH West Oʻahu University Band with Mr. Chadwick Kamei.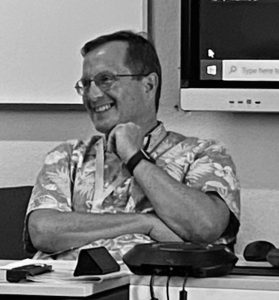 Adjunct faculty member Kirk Sullivan received his MA in Ethnomusicology from the University of Maryland at College Park in 2014 and his PhD from the University of Hawai'i at Mānoa in 2021. He specializes in the music of the Pacific Islands and has performed field work in the Solomon Islands (2012), and the Cook Islands and New Zealand (2015–2019). His ongoing research has employed archival recordings, field observation and interviews, his own musical performance, and musical analysis to study Cook Islands music in the homelands and diaspora, with particular emphasis on identity formation and maintenance through music. Dr. Sullivan has taught introductory, advanced undergraduate and graduate level courses in ethnomusicology, including MUS 107, MUS 407, and MUS 657. He currently teaches at several of the University of Hawai'i system campuses.
Related activities have included serving as co-curator and video curator of exhibits of musical instruments and the Festival of Pacific Arts for the East-West Center; interning at the Library of Congress American Folklife Center; and serving as volunteer at the Bishop Museum. In addition, he performs regularly as a tenor in the O'ahu Choral Society and Hawai'i Opera Theatre, and as a Scottish Highland bagpiper for such events as the annual Makapu'u Lighthouse First Day Hike and Queen Elizabeth's Platinum Jubilee Celebration at 'Iolani Palace.