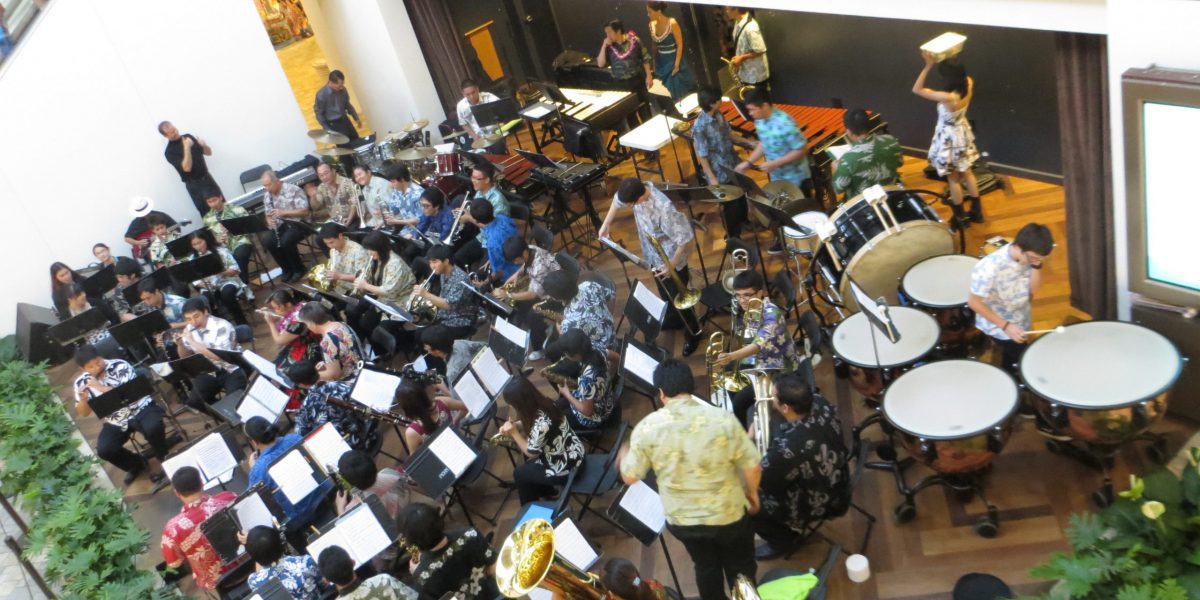 Join the University Band ʻohana! Make a sound contribution while growing your instrumental skills.
The University Band (MUS 419), under the co-direction of Chadwick Kamei and Michael Nakasone, is open to all UH West Oʻahu students, faculty, staff, and community members with band experience. Also welcome are O'ahu high school band junior or senior students participating in the Early Admission program that offers college credit only, and Hawai'i State Department of Education teachers taking MUS 419 for teacher reclassification credit. The ensemble performs band literature from a variety of eras, including Hawaiian mele, and members will grow their skills in instrumental technique, musicianship, and listening and playing in an ensemble.
The UH West Oʻahu Humanities|Music program is grateful to Mr. Chadwick Kamei, director of the Pearl City High School Band Program and PCHS Principal Joseph Halfmann for the use of the PCHS band room and equipment for instruction on Wednesday evenings from 6:30 to 8:30 p.m. Highlights of the University Band year include the annual Winter Concert, Community Concerts at area shopping malls, and UH West Oʻahu commencement ceremonies.
There are no upcoming events.
Take Advantage of the Benefits of Music!
Cognitive—Helps your brain function better, giving you an edge in the classroom. ("…children and adults with extensive musical training show enhanced executive function when compared to non-musicians, especially for cognitive flexibility, working memory, and processing speed."– Psychology Today, 6/25/14)
Career—Helps you develop a talent that distinguishes you from the pack, and helps reinforce positive character traits sought by employers such as discipline, perseverance, teamwork, patience, self-control, problem solving, and empathy;
Social—Offers opportunities to meet new people (who are often interesting) and reconnect with old friends;
Psychological—The weekly rehearsal/class improves your mood, decreases stress, and reduces depression and anxiety by helping express what words cannot express.
For questions, please contact Dr. Jon Magnussen. MUS 211 is repeatable up to four (4) credits (crosslist HPST 211); MUS 311 is repeatable up to four (4) credits (crosslist HPST 311);. This course helps fulfill the Diversification Arts Requirements (DA) of the UHWO General Education Core Requirements.