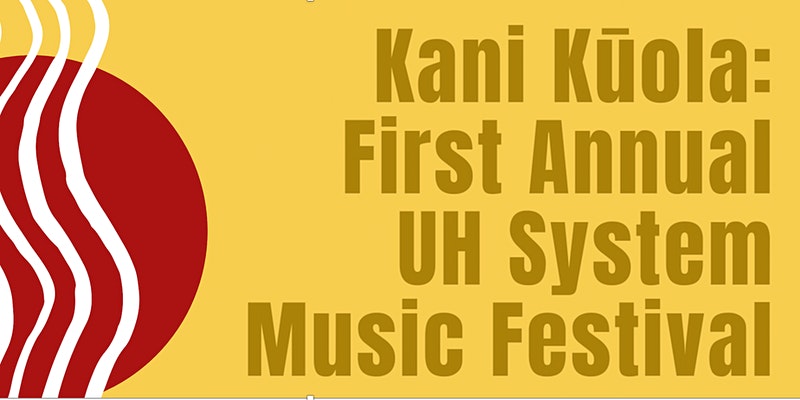 Saturday, April 9, 2022 @ UH West Oʻahu
All events free
(As of March 26, 2022, Lumisight registration or Proof of
 vaccination NOT required for in-person participation.)
(All events subject to change)
AFTERNOON SESSIONS
LUNCHTIME HOʻOKANI KULANUI
(1:00-3:00pm)
E hele mai!  Come enjoy nahenahe music, singing, and talk story fun with Nā Hokū Hanohano Award Winners Raiatea Helm, Bobby Moderow, Jr., and Kamuela Kimokeo.in the Nāulu Center Outdoor Learning Space. This community-centered kanikapila-talk story session features chords projected on screen for all to enjoy playing along.  Bring your instrument and your leo! (voice).
INDUSTRY PANELS (3:00-5:00pm)
Music and Hawaiʻi's Creative Industry
(3:00-4:00pm via YouTube)

Eric Lagrimas, curator (Honolulu CC)
The music and creative industries are changing at a record pace.  Come hear how these changes are affecting the creative workforce, and how the work is bringing the creative industries in new directions. With perspectives from invited industry guests Perfecto De Castro, Chaz Umamoto, and Katy McIlvane.
Live Band Performance and the Pandemic
(3:00-4:00pm via YouTube)

with Jeffrey Boeckman, Chadwick Kamei, and Sarah Tochiki
The pandemic has disrupted life in so many ways, and particularly for music educators in live performance.  Join moderator Dr. Jon Magnussen, and band directors Dr. Jeffrey Boeckman (UH Mānoa), Sarah Tochiki (Chiefess Kamakahelei Elementary / Kauaʻi Community College) and Chadwick Kamei (Pearl City High School / UH West Oʻahu), as they talk about the effects of the pandemic on live performance, where we are now, and where we think we're headed. 
The Symphony of the Hawaiian Birds
(3:00-4:00pm via YouTube)

with Takuma Itoh, Alex Kauhini, Laura Margulies, Dave Moss, Melissa Price, and Makanani Salā
Great things can happen when people work together.  The Symphony of the Hawaiian Birds has been experienced by over 20,000 school children since its first performance in 2018.  Learn how the project came about, what inspires the stakeholders of the project to continue this important work, and whatʻs next on the horizon. Panel moderator Dr. Jon Magnussen (UH West Oʻahu) is joined by Dr. Takuma Itoh (UH Mānoa), Alex Kauhini (ʻAikahi Elementary), Laura Margulies (UH Mānoa Academy for Creative Media), Dave Moss (Hawaiʻi Symphony Orchestra), Dr. Melissa Price (UH Mānoa) and Makanai Salā (Honolulu Mayor's Office of Culture and the Arts).   
So You Want To Be A Songwriter / Producer?
(4:00-5:00pm via YouTube)

With Dave Tucciarone and Keilana
Join multi-Grammy Award and Nā Hōkū Hanohano Award-winner Dave Tucciarone, and multi-Nā Hōkū Hanohano Award-winner Keilana in a talk story session with Jon Magnussen about their individual journeys and ongoing careers as producers and songwriters. 
The Lullaby Project: Connecting Music to Wellbeing
(4:00-5:00pm via YouTube)

Dr. John Signor, curator (Leeward CC)
Join host Dr. John Signor (Leeward CC), Lullaby Project co-director Dr. Jon Magnussen and invited guests of Lullaby Project artist-facilitators Starr Kalāhiki, Analiese Esopenko, Honybal Sosa, Rob Cornwall, and social work professionals Reina Adams (Mary Jane Home of Catholic Charities) and Lisa Tamashiro (Adult Friends for Youth) for a discussion on the role music plays in parent/infant bonding and how this project has impacted participants in Hawaiʻi's Lullaby Project, now in its third iteration. The Lullaby Project, a national project of Carnegie Hall's Weill Music Institute, helps pregnant women and new parents to create their own original lullaby for their keiki, helping to support mom's health, baby's development, and nurture a loving bond between parent and child.  Join us for the Lullaby Project Sharing Concert from 6-8pm!
Kī Hoʻalu: Tuning, Technique and Talk Story with Ron Loo, Sonny Lim and Dr. Kamuela Kimokeo
(4:00-5:00pm via Zoom)
Ever wonder how that classic kī hoʻalu (slack key guitar) sound has been passed from generation to generation?  Listen in as masters of kī hoʻalu Ron Loo and "Sonny" Lim talk story with Dr. Kamuela Kimokeo about tuning, technique and slack key mentors.
MASTERCLASSES: (3:00-5:00pm)
(In-person)
Vocal Masterclass

Erik Haines, Leslie Goldman and Eric Schank (Hawaiʻi Opera Theatre, UH West Oʻahu) 
Come sing an aria, art song, leggiero Broadway song, or folk song for UH West Oʻahu voice instructor and Hawaiʻi Opera Theatre (HOT) Education Director, baritone Erik Haines and his HOT colleagues, soprano Leslie Goldman and pianist Eric Schank. All singers (and listeners) are welcome to attend, and five (5) to six (6) singers will be invited to perform. If you are interested in performing in the masterclass, please fill out this form by midnight, Friday, April 1, 2022.
Piano Masterclass

UH System piano faculty
This event will feature performances by UH piano students from various campuses as they receive insights from a panel of UH piano faculty members. Topics will include artistic expression, piano technique, performance preparation, and much more! Students are welcome to listen as audience members or APPLY! to be a performer (please apply by midnight, Friday, April 1, 2022). The panel of clinicians will include Jessica Choi (Leeward CC), Dr. Jonathan Korth (UH Mānoa), Anne Craig Lum (Kapi'olani CC), and Dr. Katy Luo (UH Mānoa, UH West O'ahu).