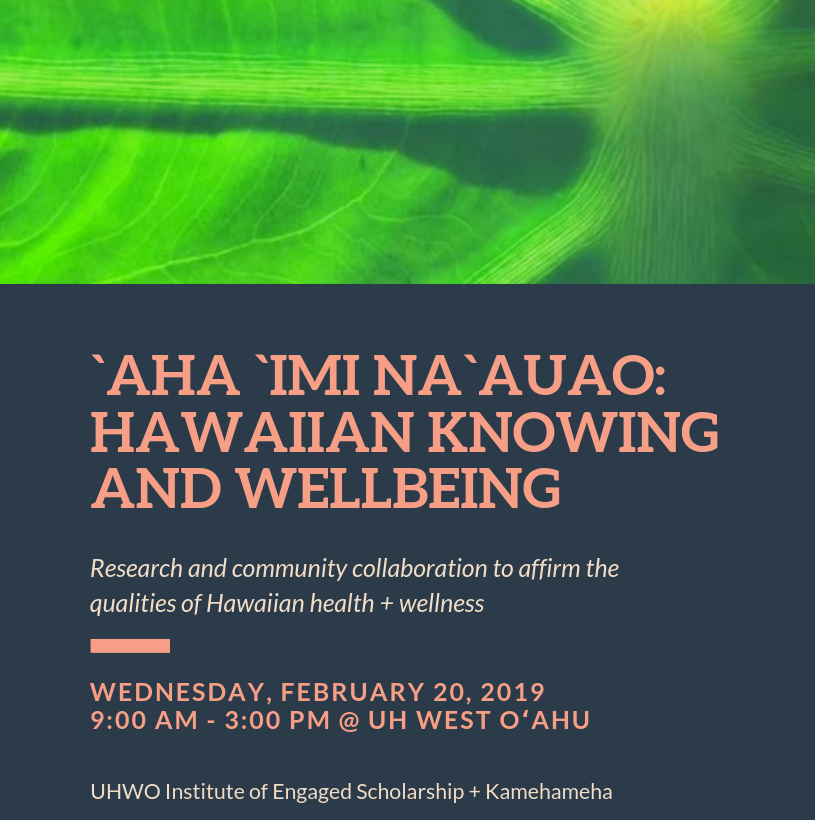 UH West Oʻahu's exploration of Native Hawaiian issues will continue in February with a presentation of research projects examining how land-based practices, environmental stewardship and access to local food are essential to Native Hawaiian health and wellness.
On Wednesday, Feb. 20, the campus will host ʻAha 'Imi Na'auao: Hawaiian Knowing and Wellbeing, an almost day-long event that will feature research presentations from UH West Oʻahu and UH Mānoa faculty members, community groups and others.  The project was funded by a grant from Kamehameha Schools and organized by UH West Oʻahu's Institute of Engaged Scholarship. The event runs from 9 a.m. to 3 p.m. on the UH West Oʻahu campus and includes lunch for participants.
The event is in keeping with a University of Hawaiʻi System mission strategy to embrace its unique responsibilities to the indigenous people, language, and culture of Hawaiʻi. To that end UH West Oʻahu has included similar language about Native Hawaiian culture, traditions and values in its own Mission and Vision statements, and has acted on this commitment through various programs and events, including a January colloquium, ʻAha ʻĀina Aloha, which brought together more than 200 people to discuss land-based relationships.
Dr. Manulani Aluli-Meyer, UH West Oʻahu's Konohiki of Kūlana o Kapolei, organized ʻAha ʻĀina Aloha and is playing role in putting together ʻAha 'Imi Na'auao, which will feature 20-minute long presentations by each of the nine research groups. The research projects and collaborators are:
Kahumana Farm Hub: A Community Resource
Saleh Azizi – Former Manager at Kahumana Farm Hub, PhD candidate at UH Mānoa Urban and Regional Planning
Dr. Christy Mello – UHWO Assistant Professor of Applied Cultural Anthropology
Mapping Project
Ground-truthing maps regarding Food Security along Waiʻanae Coast
Dr. Monique Mironesco – UHWO Associate Professor of Political Science
Dr. Christy Mello – UHWO Assistant Professor of Applied Cultural Anthropology
Michael Wahl – Department of Land & Natural Resources GIS Specialist, UHWO Instructor
MAʻO Organic Farm
A survey to measure other aspects of production and impact of an ʻāina-based organization
Kukui Maunakea-Forth with Kamuela Enos, MAʻO Farms
Dr. Thomas Scheiding – UHWO Assistant Professor in Economics
Policy from Pilina
ʻĀina-based relations as a source of public policy expertise
Dr. Lorinda Riley – UHWO Public Administration Instructor
Kawika Riley – PhD Candidate in Political Science
Kupu
Conservation practices and their impact on Hawaiian well-being
Dr. Camonia Graham-Tutt – UHWO Assistant Professor of Community Health
Gina Carroll – Former Kupu program director, UHWO Project Manager
Emma Broderick – Kupu Coordinator
Building a Native Hawaiian Dietetic Workforce for the Health/Well-being of the Lāhui
Dr. Monica K. Esquivel – UHM Assistant Professor and Dietetics Program Director
Dr. Marie Kainoa Fialkowski Revilla – UHM Assistant Professor in Human Nutrition
Jessie Kai – Graduate Assistant, UHM Dept of Human Nutrition, Food & Animal Sciences
Dr. M'Randa Sandlin – UHM Assistant Researcher, Public Issues Education
Hawaii Forest Policy
Understanding our relationship to the forest, land owners, harvesting food, and ourselves
Katie Kamelamela, UHM PhD candidate in Ethnobotany
MAʻO Farms Health Study: Reconnecting to ʻĀina: Enabling Sustainable Health
Dr. Alika Maunakea – JABSOM Associate Professor, Department of Native Hawaiian Health
Dr. Ruben Juarez – UHM Associate Professor of Economics,
Kaʻala Farm – Lāhui Consciousness
Hui Kū Like Kākou activities at Kaʻala Farm plus deeper understanding of Lāhui Consciousness
Kalani Young – UHWO Instructor, PhD candidate in Anthropology
Dr. Masahide Kato – UHWO Assistant Professor, Political Science