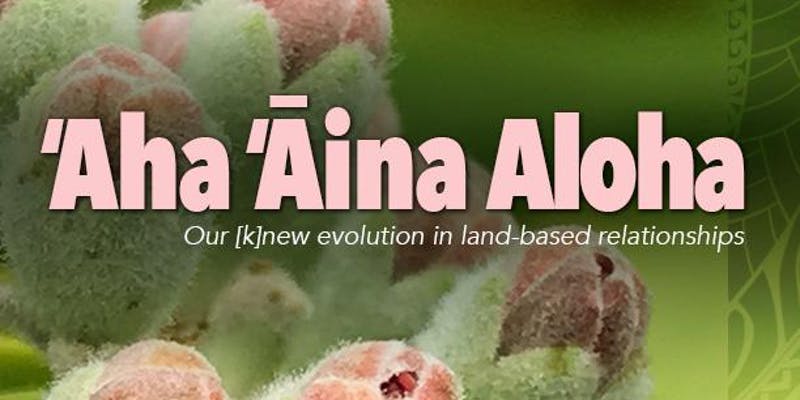 ʻAha ʻĀina Aloha, a colloquium bringing together colleagues, storytellers, cultural practitioners, educators, and community members to discuss land-based relationships, is scheduled for the UH West Oʻahu campus during a one-day event next month.
The ʻaha organized by Dr. Manulani Aluli-Meyer, UH West Oʻahu's Konohiki of Kūlana o Kapolei, is scheduled for 7:30 a.m. to 4 p.m. on Friday, Jan. 4, and will feature participants and speakers from UH West Oʻahu, Kumu Pono Associates, Cultural Surveys Hawaii, Volcanoes National Park, Mālama Learning Center, Palehua, Kamehameha Schools, Purple Maiʻa, the Office of Hawaiian Affairs, HART, the University of Saskatchewan, and others.  
The conference involves the sharing stories of ʻEwa and Honouliuli, along with exploring cultural approaches to landscaping, and witnessing how ʻāina/land educates, inspires and instructs us. Attendees may chose to sit in on one of three tracks:
Welina Honouliuli – Stories of our beloved ʻEwa
Moʻolelo (story) is a tool for continuity. Stories bring people into their shared and intersecting histories; they can thrill and guide; and shape a mutually emergent future that everyone is poised to participate in. This theme, Welina Honouliuli, features cultural practitioners, language scholars, digital storytellers, and kahuʻāina – land stewards passionate about the role and purpose of story.
Facilitator: Kamuela Enos, MAʻO Organic Farms
Kepā Maly, Pono Associates
Olin Lagon, Purple Maiʻa
Nalani Kealaiki, Kamehameha Schools
McD Phillpotts, Palehua
Kawena Komeiji, UH West Oʻahu
Aulii Mitchell, Cultural Surveys Hawaiʻi
Cultural Landscaping – Ecological Rehabilitation Practices
Creating authentic and loving relationships with earth/sky/water can be practiced anywhere. Why not use institutional spaces to help orient us back to moon and star knowledge, or to the seasons of Hoʻoilo and Kau? Why not plant trees that our birds recognize, use, and sing about? Why not plant food? The Cultural Landscaping sessions will be gracefully developed with kupuna, cultural practitioners, ethnobotanists, landscaping practitioners, and community members dedicated to these ideas in unique ways.
Facilitator: Manu Aluli-Meyer, University of Hawaiʻi-West Oahu
Bobby Camara, Hawaiʻi Volcanoes National Park
Lynette Paglinawan, Kupuna
Carlton Ho, University of Hawaiʻi-West Oahu
Kealoha Fox, Office of Hawaiian Affairs
Indrajit Gunasekara, University of Hawaiʻi-West Oahu
Kupaa Luat Hueu, University of Hawaiʻi at Mānoa
ʻĀina-Based Education – Learning from land, not simply about land
Land is our forever teacher. Come and hear how experienced educators keep the love and care of land as central operating principles of their teaching and learning. Hear the insights and lessons of a Masters cohort in Land-Based Indigenous Education at the University of Saskatchewan. They will detail and summarize their final M.Ed. projects in land-based learning.
Facilitator: Summer Maunakea, Kōkua Hawaiʻi Foundation
Pauline Sato, Mālama Learning Center
Thomas Anuhealii, Palehua Ranger
Alex Wilson, University of Saskatchewan
Students: Land-Based Indigenous Masters Cohort from Canada. 
The conference is free to attend, but participants are asked to RSVP by Dec. 21 at http://bit.ly/AhaAinaAloha. Light refreshment and lunch will be provided. For more information, please contact: Dr. Manulani Aluli Meyer – manulani@hawaii.edu.