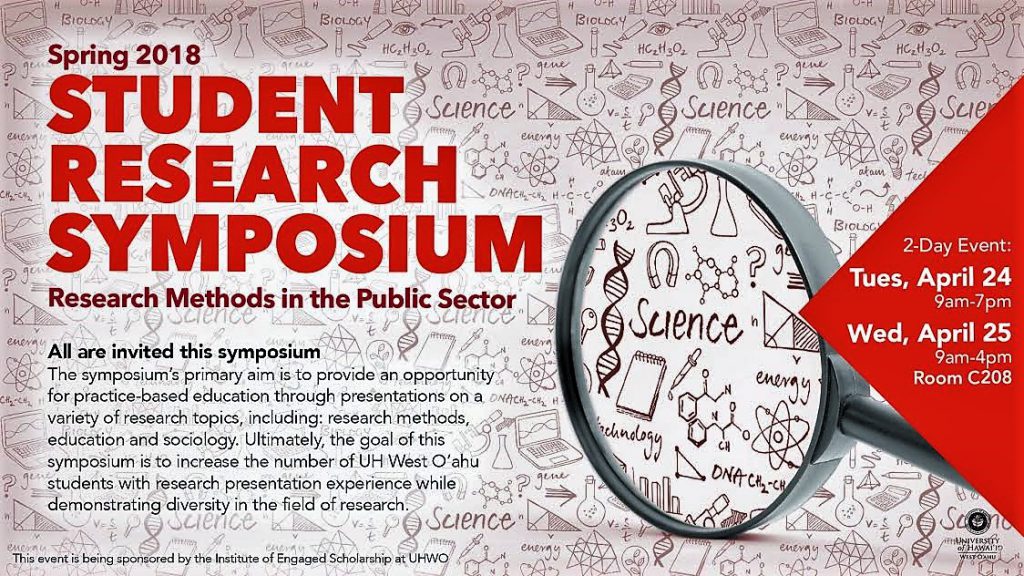 UH West Oʻahu's showcase of undergraduate research methodology, scientific reasoning and presentations is being upgraded into a two-day event to help accommodate the increasing number students pursuing research projects.
The symposium is scheduled for 9 a.m. to 7 p.m., Tuesday, April 24, and 9 a.m. to 4 p.m. Wednesday, April 25, in the Campus Center Multipurpose Room C208 and will include roundtables, oral presentations, and poster presentations. The symposium is being sponsored by the Institute of Engaged Scholarship at UH West Oʻahu. Previously the symposium was a one-day event.
The goal of this symposium is to increase the number of UH West Oʻahu students with research presentation experience while demonstrating diversity in the ways research is conducted," said to Dr. Camonia Graham-Tutt, a Public Administration assistant professor of Community Health who is organizing the symposium along with the help of a growing committee of UH West Oʻahu faculty and students. She noted symposium also aims to provide an opportunity for practice-based education through presentations on a variety of research topics, including research methods, education, sociology and business.
"We would like to provide more opportunities for students and faculty to be involved in and attend the symposium so we extended it from one long day to two days," Graham-Tutt said. "We are hopeful to be able to accommodate more people and also have more community to attend the event this way."
Undergraduate research has been climbing at UH West Oʻahu, in part because of funding from the Institute of Engaged Scholarship mini grants, and a National Science Foundation grant, each of which contributes to the building of undergraduate research opportunities. The increased focus has played a role in UH West Oʻahu students presenting their research at mainland conferences – most recently Anthropology major R. Kalani Carreira presented his research poster regarding an archaeological and skeletal case study at an American Academy of Forensic Sciences meeting in Seattle in February.
In October, three UH West Oʻahu students won an Undergraduate Student Poster Presentation Award in Mathematics (general) at 2017 SACNAS — The National Diversity in STEM Conference in Salt Lake City.  Last November, two University of Hawaiʻi-West Oʻahu students presented posters during an undergraduate research conference at the University of Tennessee. Two students, Bianca Paishon and Michele Farias, also were selected for a National Institute of Health undergraduate research program.
UH West Oʻahu's undergraduate research symposium has grown from a single class presenting posters in Fall 2016 (PUBA 310 Research Methods in the Public Sector), to five classes presenting posters and oral presentations in Fall of 2017. For Spring 2018 students from more than seven different divisions and/or concentrations will be represented at the symposium in a variety of ways, which include giving presentations in roundtable, poster or oral formats to serving as staff at the symposium.
The campus' Institute of Engaged Scholarship's goals include providing resources and support to enhance faculty scholarship and engaging students in research, service, and problem-solving. Among the institute's objectives is the establishing of a thriving research culture on campus, helping faculty with efforts to develop and sustain research while engaging students in research initiatives and opportunities. This includes the publication of a newsletter examining research activities at UH West Oʻahu.
Image courtesy of UHWO Staff