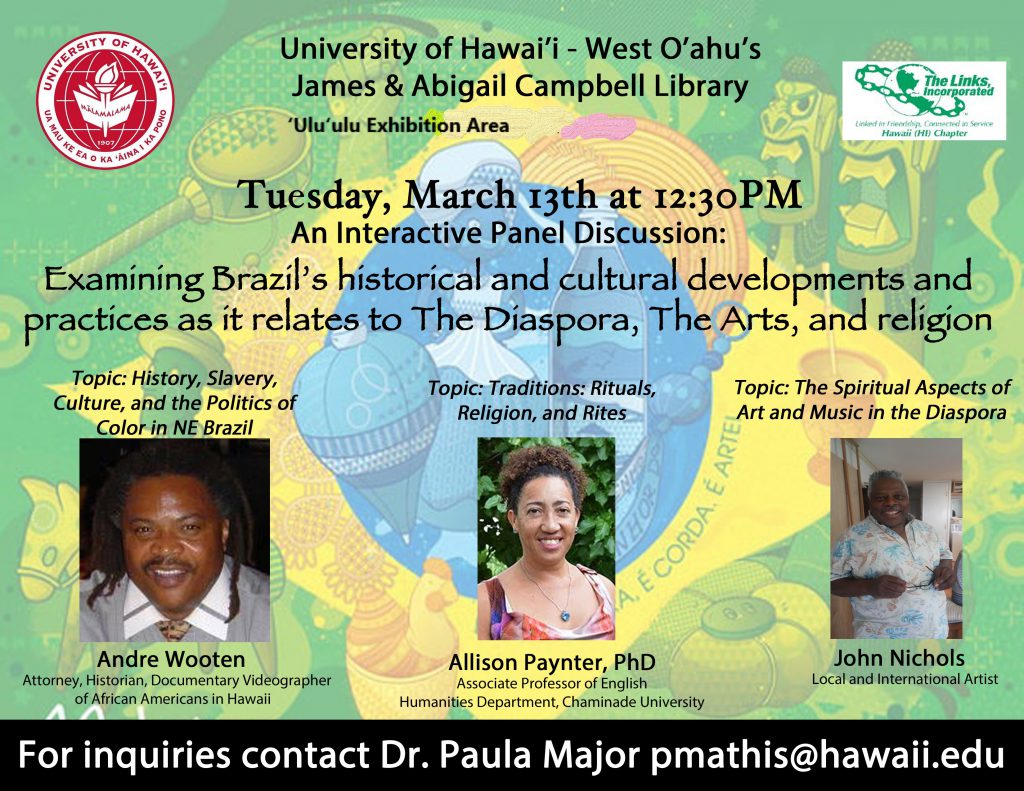 A panel discussion related to the "Bandits & Heroes, Poets & Saints" exhibition at the James & Abigail Campbell Library is scheduled for tomorrow, at 12:30 p.m., Tuesday, March 13, in the ʻUluʻulu Exhibition Area.
The panel will examine Brazil's historical and cultural developments and practices as it relates to the diaspora, the arts and religion. The discussion is occurring in the final days of the NEH on the Road exhibit that is spread over the first and second floors at the library.  "Bandits & Heroes, Poets & Saints," is scheduled to close Friday (March 16).
Scheduled to speak are Andre Wooten, who is an attorney, historian, a video documentarian of African Americans in Hawaiʻi, who will speak on "History, Slavery, Culture, and the Politics of Color in Northeast Brazil".  Dr. Allison Paynter, a Chaminade University associate professor of English, will speak on "Traditions: Rituals, Religion, and Rites", while John Nichols, an artist, will talk about the "Spiritual Aspects of Art and Music in the Diaspora".
The "Bandits & Heroes, Poets & Saints" examines how African slaves brought to work the sugar plantations in the Northeast of Brazil have blended in and added to the vibrant cultural heritage of the region.  The exhibit tells this story through popular art — sculptures, prints, paintings, toys, poetry, and paintings are part of the showcase.
Image courtesy of UHWO Staff