Recreation, Fitness, Sports, and Leisure Coordinator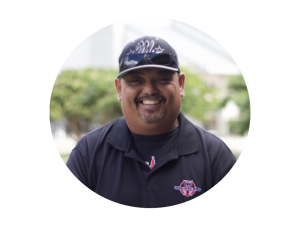 Ryan Perriera (Coach RP) is the Coordinator for Recreation Sports which includes, intramural sports, the Pueo/Nāulu Fitness center, Health and Wellness programs, and E-SPORTS.  He is originally from Lihue, Kauai, and is currently living in Manoa with his wife and 2 children. Coach RP has been working for the University of Hawaii System since 1994, mostly at of the community colleges on Oahu, but joined the University of Hawaii – West Oahu in 2015.  
Coach's philosophy is "Student First." He believes his job is to engage students, enhance their experience, and explore all possibilities in a safe environment.  He also teaches soft skills because it is something you don't learn in the classroom. He has a couple of famous quotes," I am smarter than I look," and "Just because you can, doesn't mean you should."  He also is a first-generation college graduate and is proud to represent his family.
Student Staff Lead
After graduating class of 2019 from Kapolei High School, Hayden chose to pursue a Bachelor of Arts in Finance and Marketing at UH West O'ahu. In Fall 2020, he slowly immersed himself into Intramural Sports by joining the various online events, trying to pass the time by making friends during the pandemic. New to the program, Hayden deals with website and social media management, while helping with the online events. After reading multiple philosophy books, he has found his favorite quote to be by the stoic philosopher, Epictetus, "Try at least; there is no shame in making an honest effort."  Coach Ryan says, "I'm excited to add Hayden to my team, but I don't know what he looks like yet because of social distancing."
Kahealani Iwamoto-Palencia
Student Staff

Kahea is a 2019 graduate of Kamehameha Schools Hawaiʻi Campus and is currently a Business Administration major with a concentration in Marketing and Management at UHWO. She mainly helps with Yoga and Game Nights along with helping the fitness centerʻs daily responsibilities. As a recent transfer from UH Hilo, she brings this exciting energy and hopes to create more friendships in this new chapter. When Kahea isnʻt working or studying, you can probably find her taking photos or scrapbooking somewhere.