OPDAS coordinates resources to support teaching and learning excellence. Browse the resources for syllabi development, with access to templates to ensure that your syllabus is ADA compliant and contains all of the university required policy statements. The Course Workload Estimator is a helpful resource for effectively planning course content and activities consistent with the credit hour policy. In addition to the resources found on this page, the OPDAS laulima site is another source for faculty development resources.
Library Professional Development Collection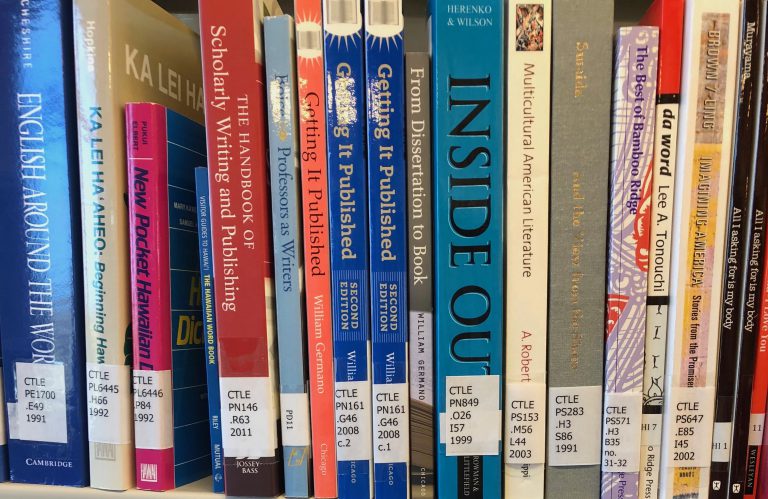 The James and Abigail Campbell Library maintains a collection of professional development resources.
Faculty Development

Hawaiian

Online Teaching



Merlot 
MERLOT Faculty Development Portal, featuring educational resources for teaching and learning in higher education, both in face-to-face and online environments. You are invited to join MERLOT—it's free—and participate in this growing community of instructors. Merlot's faculty development collection contains materials covering teaching strategies, teaching challenges, instructional design, learners and learning and assessment
All faculty and lecturers have access to the OPDAS Laulima site. The Laulima site provides additional resources for faculty development, as well as small group spaces for online discussions for new faculty cohorts, lecturers. Additional resources include access to:
Access to Magna Online Seminars – available on-demand

Discussion forums for small groups such as new faculty cohorts and lecturers

Information about teaching award nominations

Communication space for faculty participating in Teaching Triangles
A syllabus is an important document in any course. It's usually the first point of contact with your students and typically continues to be a reference point throughout the semester. We highly recommend that you begin with the syllabus template (see below) and customize it for your class, as it is fully ADA compliant and includes the essential sections and information. 
Key components of a syllabus:
Course description and learning outcomes

How to contact the instructor

Required materials

Course format and schedule

Required student authentication activities (e.g. proctored exam, synchronous meeting) – include dates and description

Grading policies

College policies and support services (e.g. Disability, Title IX)

Student responsibilities (e.g. expectations for effort required, academic honesty, communication)

How to access academic, technical, or other support
UH West Oʻahu Syllabus Template:
make a copy of the

Syllabus Template

(saves to your Google drive)

rename the document

customize the document

update the sharing setting so that

anyone with a link can view

(important: make sure you grant external access – not just to UH accounts – so it will display properly in Laulima)
Course Workload Estimator
The workload estimator is a tool originally developed by Rice University as a means of estimating the amount of time students will need to complete course activities.
The Workload Estimator 2.0 is attributed to Wake Forest University's Center for the Advancement of Teaching.
This tool can be helpful in designing course activities and independent work that is consistent with the credit hour policy which requires 15-hours for each credit hour of activity during contact hours, and 30-hours of independent activity completed outside of the course contact hours. Therefore, a 3-credit course should have 45-hours of contact activities and 135 hours of independent activities.