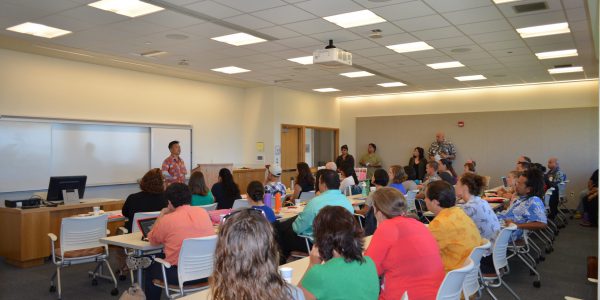 OPDAS offers several programs each year for instructional faculty and faculty specialists. Programs are designed specifically to support teaching and learning at UH West Oʻahu. Orientations, Teaching Academy, and Teaching Triangles are examples of programs that are offered each year.
New Faculty and Lecturer Orientation is offered for one full day in the week before classes start each August.  A shorter, evening Lecturer-focused Orientation is offered in early January.
Orientation provides:
logistical information for teaching in-person and online

introductions to campus offices and resources

support systems, policies and procedures



The Teaching Triangles Program is designed to enrich teaching and build community through a structured, non-threatening process of classroom observations and shared reflections. This is not a formal evaluation.
A Teaching Triangle is a group of three faculty from different disciplines who:
engage in reciprocal classroom or online visits

share teaching material

reflect on classroom or online teaching activities

chat with colleagues at a lunch meeting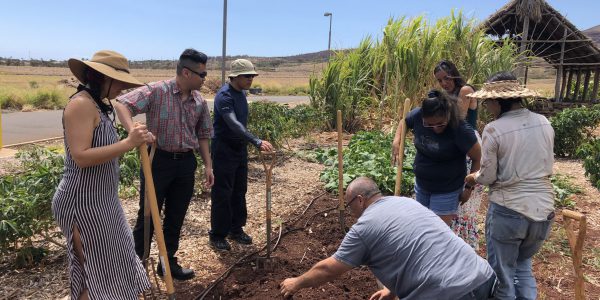 The Teaching Academy is a one-semester program designed specifically for new faculty and lecturers. However, any tenure-track faculty can participate. Some faculty choose to participate in the Teaching Academy multiple years. Each year, the Teaching Academy meets once per month for the Fall semester (September, October, and November) with Pau Hana often planned for December to celebrate the end of the first semester for the new faculty.
Previous Teaching Academy topics have included (but are not limited to):
acclimating to UH West Oʻahu

pedagogical topics

research: developing a program, applying for funds

cohort building with other new faculty

understanding our students

special topics based on faculty demand
Professional Development Institute Weeks
August Professional Development Institute Week

January Professional Development Institute Week

May Professional Development Institute Week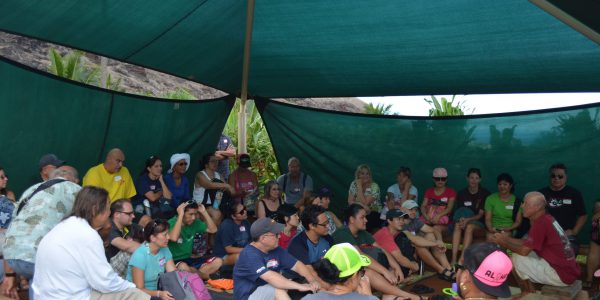 OPDAS supports Kūlana o Kapolei (A Hawaiian Place of Learning at UH West Oʻahu) and the Nālimakui Council in overing Piliʻāina, an annual huakaʻi for UH West Oʻahu faculty, staff and students to nurture relationships with our storied landscape represented in Mele Honouliuli. Activities include learning songs and mo'olelo of ʻEwa, while experiencing Palehua, Puʻu o Kapolei, and Kapapaʻapuhi (West Loch of Puʻuloa).
Eō Pālehua ke kuahiwi la
Ke kuahiwi i noho i ka lani
ʻO Kapolei ka puʻu la
Ka puʻu i noho i ka 'āina
ʻO Kapapaapuhi ka loko ia
Ka loko i noho i kai
ʻO Honouliuli la
He ʻāina aloha o ʻEwa
Aloha mai e nā pua la
Nā pua haʻaheo o ka ʻāina
Pālehua is the mountain
the mountain that dwells in the heavens
Kapolei is the hill
the hill that sits on the land
Kapapaapuhi is the pond,
the pond that resides at the sea
Here is Honouliuli,
a land of great affection in 'Ewa
Greetings to our descendants,
the proud children of this land.
Contract Renewal / Tenure & Promotion Support
Under the direction of the Office of the Vice Chancellor for Academic Affairs, OPDAS provides programs to support faculty through the process of  contract renewals and preparing the dossier for instructional faculty and faculty specialists preparing for tenure and promotions. Visit the faculty tenure, promotion, contract renewal and periodic review webpage for more procedural information and details.
Contract Renewal, Tenure & Promotion Informational Sessions
In the beginning of each academic year, the Office of the Vice Chancellor for Academic Affairs offers informational sessions for faculty. Separate information sessions are held for contract renewal, tenure and promotion, and tenured faculty serving on committees. OPDAS assists the OVCAA with planning and coordination of these informational events. 
Dossier Preparation Workshops

During the Spring Professional Development, OPDAS hosts a Dossier Prep Workshop
To assist faculty with the process of preparing applications for contract renewal. Small group sessions are provided on a variety of topics to support both instructional faculty and faculty specialists in the process of preparing their dossier.

Library collection of Contract Renewal and Tenure & Promotion Applications
A collection of contract renewal applications and tenure and promotion applications are available in hardcopy and electronic format in the library. Faculty voluntarily donate copies to the collection. Some copies are available to check out on reserve in the library, while others are available to be checked-out from the library.