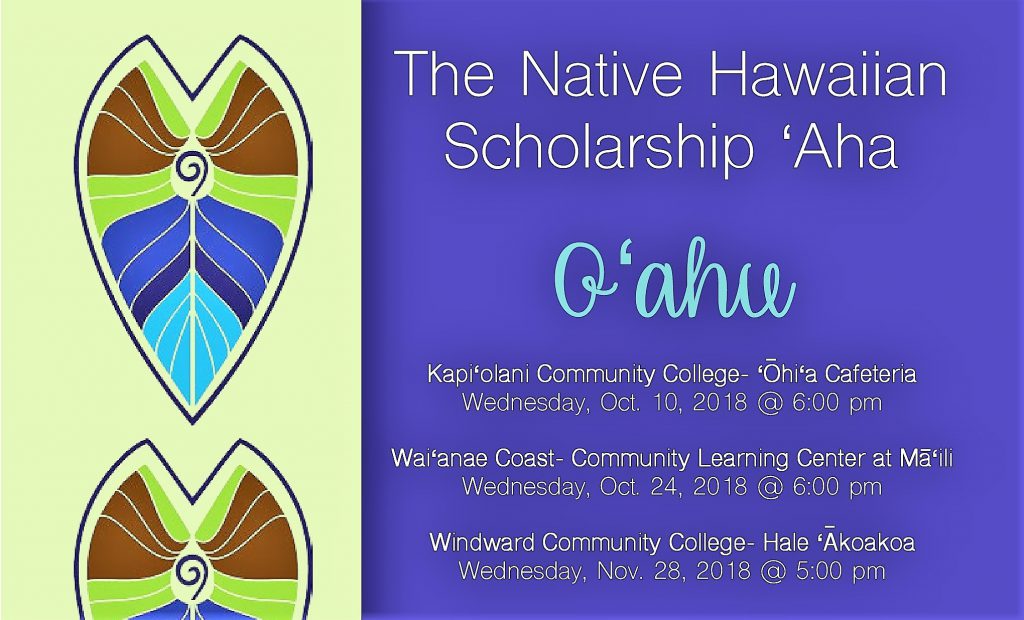 Pre-registration is underway for the 2018 Native Hawaiian Scholarship ʻAha Series, or presentations that present information about financial aid available to Native Hawaiians.
The series is designed for high school students, parents, teachers, adult students, enrolled college students, counselors, and anyone interested in the financial aid, including eligibility criteria and qualifications.
Participants will also get to meet with various scholarship providers, including Kamehameha Schools, the Pauahi Foundation, the Hawaiʻi Community Foundation, Alu Like, UH Foundation and others.
Three Oʻahu presentations are scheduled during October and November. They are:
Oct. 10: Kapiʻolani Community College -ʻOhiʻa Cafeteria.  6 p.m.

Oct. 24: Waiʻanae Coast – Community Learning Center at Māʻili. 6 p.m.

Nov. 28: Windward Community College – Hale ʻĀoaka. 5 p.m.
Pre-registration is available online at http://www.123formbuilder.com/form-4063133/  Sponsors of the 2018 Native Hawaiian Scholarship ʻAha Series include the University of Hawaiʻi, the Office of Hawaiian Affairs, Kamehameha Schools, the Pacific Financial Aid Association, UH Maui College Educational Opportunity Center, and the Native Hawaiian Education Association.
Native Hawaiians are the largest ethnic group on the UH West Oʻahu campus, with a little more than 29 percent of students enrolled in the Fall 2017 semester identifying as Native Hawaiian or part-Hawaiian.