UH West Oʻahu's new Strategic Action Plan 2018-2028 took center stage as faculty and staff gathered for the campus' traditional Convocation/Professional Development Day that precedes the start of the academic year.
Chancellor Maenette Benham's remarks focused on the plan, which will help guide the campus as it grows during the next decade. The document was also discussed before smaller groups in breakout sessions to more fully explain what it entails.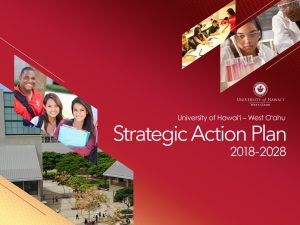 The campus has worked on the plan for about a year and a half, with faculty, staff and students providing input at various points in its development along with help from community partners. Readers of the document will be taken from foundational material such as UH West Oʻahu's value proposition, its mission, guiding principles and distinctiveness, to more detailed material on evaluating progress toward plan goals and alignment with University of Hawaiʻi and accreditation requirements.
Benham gave a brief overview of the plan which includes three impact strategies concentrating on 1) Increasing Student Success and Engagement; 2) Advancing Dynamic and Integrated Learning Experiences; and 3) Strengthening our Assets and Infrastructure.  The plan also includes more specific goals to be implemented, though Benham noted the plan is designed to be a dynamic document that can be amended as is needed. For that reason only a few hard copies will be printed.
Convocation/Professional Development Day also yielded other information, including:
The campus is pursuing the creation of two new academic divisions to add to the existing five. The new divisions are Natural Sciences and Community Health, and Transdisciplinary Studies.

Tenants of the new Administration and Health Sciences building may be able to start moving in as soon as mid-November. Construction of the new building is on budget, allowing for the installation of photovoltaic panels on the roof.

Faculty and staff will be surveyed on their professional development needs.
The event also included recognition of 13 new faculty and staff, along with recognizing employees who received promotions.  Seventeen staff were celebrated for having 10-year work anniversaries with the University of Hawaiʻi, two staff who had reached 20 years with UH (Carrie H.M. Tome and Erline Vasconcellos), and a duo who had been with UH for 30 years (Larry Andres and Annette Lehano). Sandra Maki was recognized for her 40 years of service at UH and Associate Professor of Music Jon Magnussen was celebrated for receiving a 2018 Board of Regents' Medal for Excellence in Teaching.
The day concluded with Kaiāulu, or a gathering of fellowship and celebration of good work with a lunch, games, music, and campus piliʻāina.
Images courtesy of UHWO Staff and Terri Ota