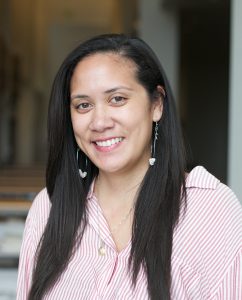 Moanaoalii Toomalatai is getting more than three hours of sleep each night and that bothers her.
"I'm getting five hours of sleep now and I feel very unproductive," said Toomalatai, who for many years averaged 3 to 5 hours of sleep while taking up to 24 credits a semester and working three jobs up to 10 hours a day. At the University of Hawaiʻi -West Oʻahuʻs Commencement on May 5, Toomalatai will graduate with a Bachelor of Arts in Business Administration with dual concentrations in accounting and management. The Associated Students of the UH West Oʻahu Vice President, who has a 3.91 grade point average, will also serve as the commencement ceremonyʻs co-emcee.
"There has been a lot that went on in my eight-year collegiate career," said Toomalatai, alluding to a college journey unlike many of her peers. During those years she worked to help support her family and endured her own health problems that may have caused others to give up a dream of a four-year degree.
It wasn't always this way for the former canoe paddler. Entering high school life was good: she lived with her parents and two younger brothers in a Kapolei Knolls home and was a typical high school student working while attending Kapolei High School. But in a test of the family's resolve, Toomalatai's mother was stricken with cancer, forcing her to quit work and sending the family's finances into a spiral.
"We went through a really rough time," said Toomalatai, talking about the financial hardships, a foreclosure, and move to a rental home.
Toomalatai responded by getting a job as a lifeguard at a local water park as soon as she was legally able to work. When it came time to go to college Toomalatai was off to Leeward Community College. With the help of financial aid she was able to complete one year before being dealt another staggering blow: medications, physical therapy, and back injections had not worked to relieve her sometimes crippling back problems. At 19 years old she would have to undergo back surgery.
The surgery meant she was unable to attend the start of the fall semester of her second year; by the time spring semester rolled around she was working evenings at Bank of Hawaiʻi's call center in Kapolei as a customer service representative. During the day she would tutor at Kapolei High School. However, in an unintended consequence, the jobs, which raised welcome income for the family budget, in addition to her father gaining a higher-paying position, meant she no longer qualified for financial aid.
That made things tougher because Toomalatai had vowed not to use student loans to attend college, yet getting a four-year degree remained a non-negotiable goal. Thus began Toomalatai's higher education odyssey: Some semesters she would attend school; others she would be working to support the family and save money to return to campus.  It wasn't a traditional path, and it sometimes hurt knowing high school friends were graduating while her degree would be years in the making.
"Then I realized we don't have the same path," said Toomalatai, explaining some of her old classmates were having to pay-off loans, or had jobs in fields unrelated to their majors.
She graduated from Leeward Community College with an Associate in Arts degree and decided to transfer to UH West Oʻahu. A friend recommended the Kapolei school and Toomalatai's research on professors and other aspects of the campus convinced her to give it a try.
"I heard class sizes were smaller and it was easier to talk to professors here," she said. "I heard great things about the (business) program."  
Moreover, the talk about being able to speak with professors was borne out. "I really like my professors and my experiences overall here," she said, noting the faculty helped her with her resume and offered to write letters of recommendation. "I don't know if I would have had those relationships."
UH West Oʻahu Professor of Accounting Franklin T. Kudo called Toomalatai an excellent student, but also someone who impressed him during a class that required students to identify the root causes of problems described in the Harvard Business School case studies.  
Toomalatai was one of two students who consistently got the essence of the case and identified the root cause of the problem or problems.
"Her cognitive strength in reading, comprehending and fully understanding what was going on told me she could she could take pieces of information, data and the like and put it all together to make sense," Dr. Kudo relayed in an email.
"This really impressed me as you donʻt see this often, especially at the undergraduate level. I am confident Moana's intelligence and hard work ethic will contribute to her success in whatever she pursues … (she is) an exemplary student."
Once she got to campus she didn't feel out of place as a little older student because there were others like her in classes. That continues until today, where Toomalatai counts a grandmother as well as a recent high school graduate among her campus friends.
She still had to deal with her financial situation, however, and a desire to graduate with at least 150 credits in order to get a Certified Public Accountant's license. Her first semester here she took eight classes, while continuing to work at Bank of Hawaiʻi, and a Kapolei High School tutor. During her second semester she took on a third job as a tutor at the Noʻeau Center, which opened her up to friendships and a recommendation she run for student government. Besides being an ASUHWO officer, Toomalatai is also a member of the campus' Accounting Club.
All this meant she slept 3 to 5 hours nightly after squeezing in time for her guilty pleasure – Korean TV dramas ("I find Korean culture is a lot like Samoan culture"). Working up to 50 to 60 hours a week changed after she left her customer service job after five years and took a job on campus in the International Relations and Programs Office, having spent four weeks in UH West Oʻahu's study abroad program at Korea's Incheon National University. She also has an internship at Oshiro & Chun, an Aiea CPA firm.
Toomalatai's mother has recovered her health despite a one-time gloomy outlook and is back working as a real estate agent. Toomalatai is graduating with 151 credits, or enough to take the CPA test and get a CPA license if she passes. Sheʻs also no longer sometimes works until midnight as a customer service representative.
And now that Toomalatai is graduating, she has a new objective besides becoming a CPA: "My goal is to have just one job."