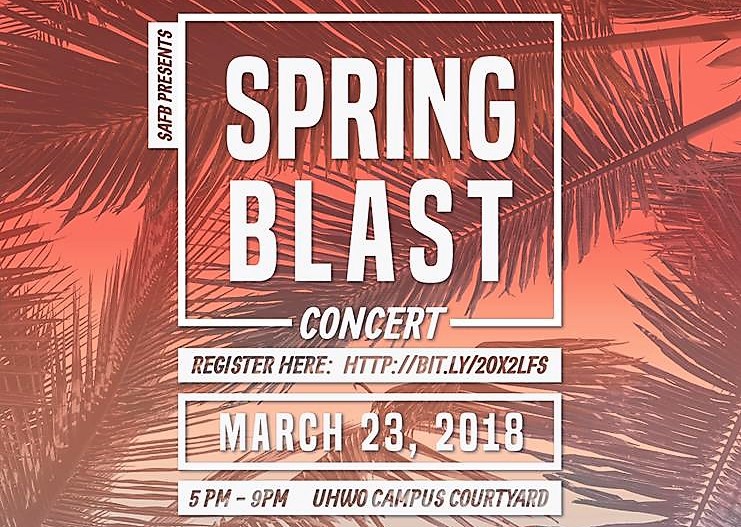 This year's Spring Blast Concert will feature three music groups as the campus gears down for Spring Break with a party for students, faculty and staff.
Mana Mahina, The Vitals 808, and Maoli will perform from 5 to 9 p.m. in the courtyard on Friday, March 23. Mana Mahina is a local group with a tie to the UH West Oʻahu campus – PIKO's Tiana Henderson is a group member. Vitals 808 features eight musicians playing their own brand of reggae music. Maoli, a Maui band formed in 2007, is known for its Island/reggae music. Maoli is releasing its latest recording on digital outlets, "With Love," on March 30.
Spring Blast is an alcohol-free concert and alcoholic beverages and/or drugs are prohibited and confiscated at check-in. Flasks, bottles, coolers, umbrellas, outside food and beverages are also not allowed. For more information on entrance procedures, guests and concert rules and to RSVP, go to the Eventbrite listing.
A limited amount of food will be available for purchase, while students will be provided a subsidized meal. The event is presented by the Student Activity Fee Board.
A limited amount of parking will be available and carpooling is encouraged. Doors to the event open at 4:30 p.m.
Image courtesy of UHWO Staff