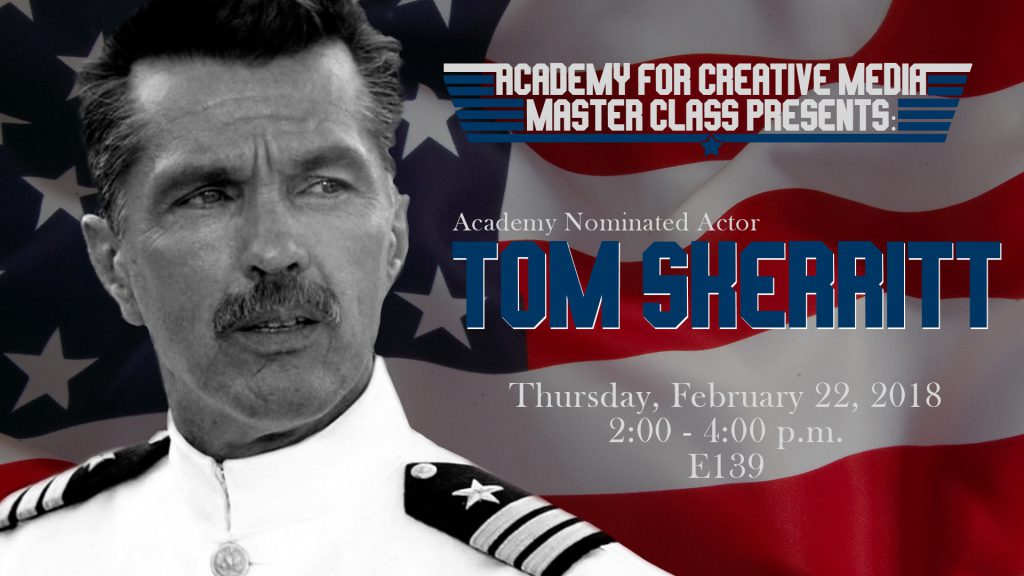 The Academy for Creative Media System will host veteran actor Tom Skerritt as part of a Creative Media Master Class on Thursday, Feb. 22, from 2-4 p.m. in E139 (Creative Media Lab).
Skerritt is best known as an actor, having appeared in film and television productions for more than five decades but also has written and directed various works and appeared on stage. The actorʻs credits include work on work in the award-winning films including "M*A*S*H," "Alien," "Top Gun," "Contact," and more.
He recently formed a Seattle-based digital media and content aggregating company, Heyou Media, a company is focused on curating, creating and distributing web content from around the world. Heyou Media curates, aggregates, develops and distributes new media visual entertainment, including music, short-form video, web series, virtual reality and special interest videos. Products include "Heyou Reimagined Classics," "Mini.Mobile.Movies.," and "Heyou Features," which includes such projects as the award-winning "Widow Walk," David Guterson's "East of the Mountains," Skerritt's PTS-focused "What We Came to Be" and the "Stroller Gangs" web series, available on Amazon Prime.
The Emmy Award winning Skerritt will do a Master Class on the industry, his experiences, and share advice with students. The Masters Series is part of UH West Oʻahu's creative media program and aims to increase student understanding of the art and business of content creation. All presentations are free and open to students, faculty, staff and the public.
UH West Oʻahu's creative media program is offered in partnership with the UH Academy for Creative Media System that supports and coordinates the creative media studies efforts among the University of Hawaiʻi campuses. Taking advantage of the system-wide approach, UH West Oʻahu's program enables students to develop unique skill sets at the community colleges and transfer seamlessly to UH West Oʻahu for continued scholarship and professional development.
Image courtesy of UHWO Staff