Three short films produced by juniors and seniors at Waiʻanae High School and mentored by Academy for Creative Media at UH West Oʻahu were shown to outstanding reviews Friday evening as part of the Asian American, Native Hawaiian, and Pacific Islander Heritage Forum.
The forum, co-sponsored by UH West Oʻahu and ACM, is part of an effort by the Historic Hawaiʻi Foundation to help identify sites for possible designation as a National Historic Landmark or listing on the National Register of Historic Places.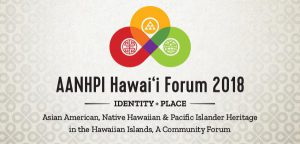 "It brought to light how beautiful our backyard is," said Austin Ibanes, part of a team that told the story of importance of culture in exploring the Kuʻilioloa Heiau at Pokaʻi Bay, which once served as an navigation school. "It was just a great experience."
The Youth Video Project was championed by UH West Oʻahu Maenette Benham as a way to get a younger generation involved in the effort, and to have them explore their what they considered important places. Waiʻanae High Schools' Searider Productions was enlisted to provide the talent, and community leaders were recruited as special mentors to discuss the projects with students, including Matsunaga Peace Institute Executive Director Maya Soetoro-Ng, UH Professor Davianna Pōmakaʻi MacGregor, and Polynesian Voyaging Society Education Director Miki Tomita.
All of the videos were received well by the forum audience at the Hawaiʻi Imin International Conference Center at the East-West Center. Kiersten Faulkner, Historic Hawaiʻi Foundation executive director, said the videos will be placed on the organization's YouTube channel. Searider Productions also plans to place them on its site.
"They're doing incredible work and they're telling incredible students," said Josiah Endo, an ACM student mentor who also works as video services manager for Searider Productions. He said seeing the students' work was inspiring. UH West Oʻahu students Kevin Bechayda, Tancy Chee, and Mendi Cui also served as mentors.
The videos were:
Honouliuli.  An exploration of the World War II internment camp at Honouliuli by students Julia Forrest, Makana Allen, and Jordyn Gerard Watkins-Oka. "Something as terrible what happened to those Japanese Americans should never happen again," said Forrest.
Waiʻanae Heiau. Besides focusing on the Ku'ilioloa Heiau and the Hokulea, this video provided remarkable drone shots of Waiʻanae. Produced by Austin Ibanes, Tyler Bright, and others.
Waiʻanae Strong. A presentation that notes Waiʻanae's sometimes poor reputation, but shows the label ignores the positive aspects of the community. The film focusing on sense of place was made by Nicole Tagalicud, Jayden Kepoo Caspino, Amee Neves, and Brayzhelle Williams-Quitog.
"They had very important stories to tell," said Soetoro-Ng said during a panel discussion, noting her involvement left her feeling hopeful. "Hawaiʻi has so much to give."
What consisted of sense of place was tough for students to define, but perhaps Waiʻanae Strong filmmaker Amee Neves summed it up the best by explaining sense of place is different for everyone and is not an actual place. "It's in the heart," she said.
Historic Hawaiʻi's Faulkner said the Youth Video Project was done as a pilot program, but most likely will be continued and expanded.  
The forum continued Saturday with more discussions about cultural and historic sites.  Speakers included McGregor, Shangri La Center for Island Arts and Cultures Executive Director Konrad Ng, Columbia University Prof. of International and Public Affairs Gary Y. Okihiro, Amy Kuʻuleialoha Stillman, and others from Hawaiʻi and the Mainland.
Image courtesy of UHWO Staff