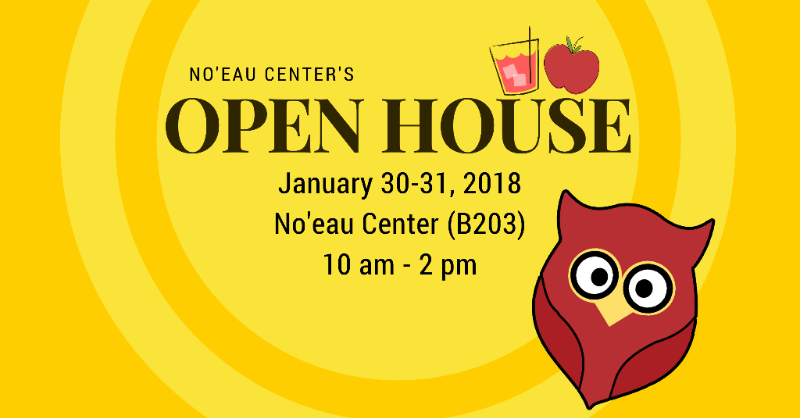 New to UH West Oʻahu or need the help of a tutor? You should attend the No'eau Center Open House, which is scheduled from 10 a.m.-2 p.m., Jan. 30 and 31, in B203.
Besides enjoying some refreshments and a chance to win some school gear, you'll be able to meet the staff and learn about the center's services.
The open house will give students a glimpse of what makes the No'eau Center such a valuable resource for UH West Oʻahu's students. This two-day event is open to all of UH West Oʻahu to help students know about the center, its staff, and services as well as the history of the center.   
The center provides three main services:
Tutoring:

After starting with math and writing, the center opened up tutoring in all subjects in fall 2013. Tutoring is conducted in-person and online.

Testing:

 No'eau Center administers the math placement test for incoming students and also proctors exams for all UH System students.

Workshops

: Workshops are offered in-house via request. Students can take a look at our workshop guide and request for one, but the Center mostly has workshops in-class at the request of professors, or students can access online workshops 24/7 on any device within the center.  
Additionally, the Center typically schedules three main events each semester–Open House; West and Welaxation (a mid-semester event that helps students deal unwind during midterms); and Cram Jam (students receive extra support to study with extended tutoring hours, group study sessions, and faculty-led sessions).
The center provides service to roughly half of the student body population each semester.
Open-house attendees will be able to take self-guided tours of center and will be able to win some prizes for engaging with the staff. The event is sponsored by the Student Activity Fee Board.
Image courtesy of UHWO Staff