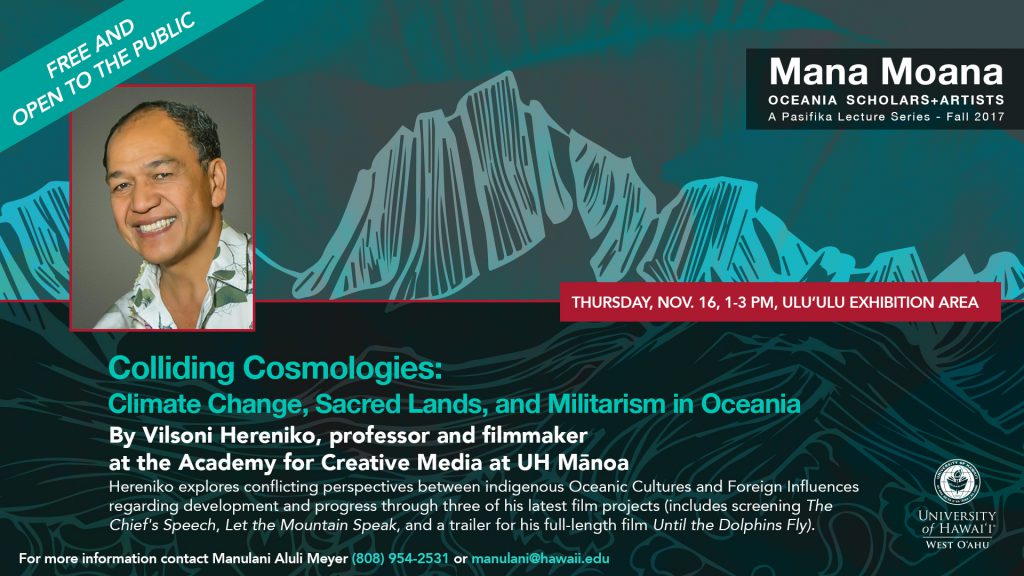 Author, playwright, filmmaker and academic Dr. Vilsoni Hereniko will give a presentation titled "Colliding Cosmologies: Climate Change, Sacred Lands, and Militarism in Oceania" as part of the Mana Moana lecture series on the UH West Oʻahu campus.
During the presentation Hereniko, a professor with the University of Hawaiʻi at Mānoa's Academy for Creative Media, will explore conflicting perspectives between indigenous Oceanic cultures and foreign influences regarding development and progress through three of his latest film projects, The Chief's Speech, Let the Mountain Speak, and Until the Dolphins Fly. The presentation is scheduled for 1 pm.-3 p.m., Nov. 16, at ʻUluʻulu exhibition area in the Library.
Hereniko has written and directed or produced five films, including a narrative feature, "The Land Has Eyes", set on his homeland, Rotuma, a Fijian dependency. The film is the winner of several awards, including Best Dramatic Feature at the 2004 Toronto Imaginative Film and Media Arts Festival. Hereniko was the editor of the award-winning journal "The Contemporary Pacific" from 2002-2008. He has also authored or edited academic books or articles on Oceanic literature, film, art, culture, and the politics of representation.
His talk will include the showing of two short films and the trailer of a feature film, and include a question and answer period.  
Image courtesy of UHWO Staff