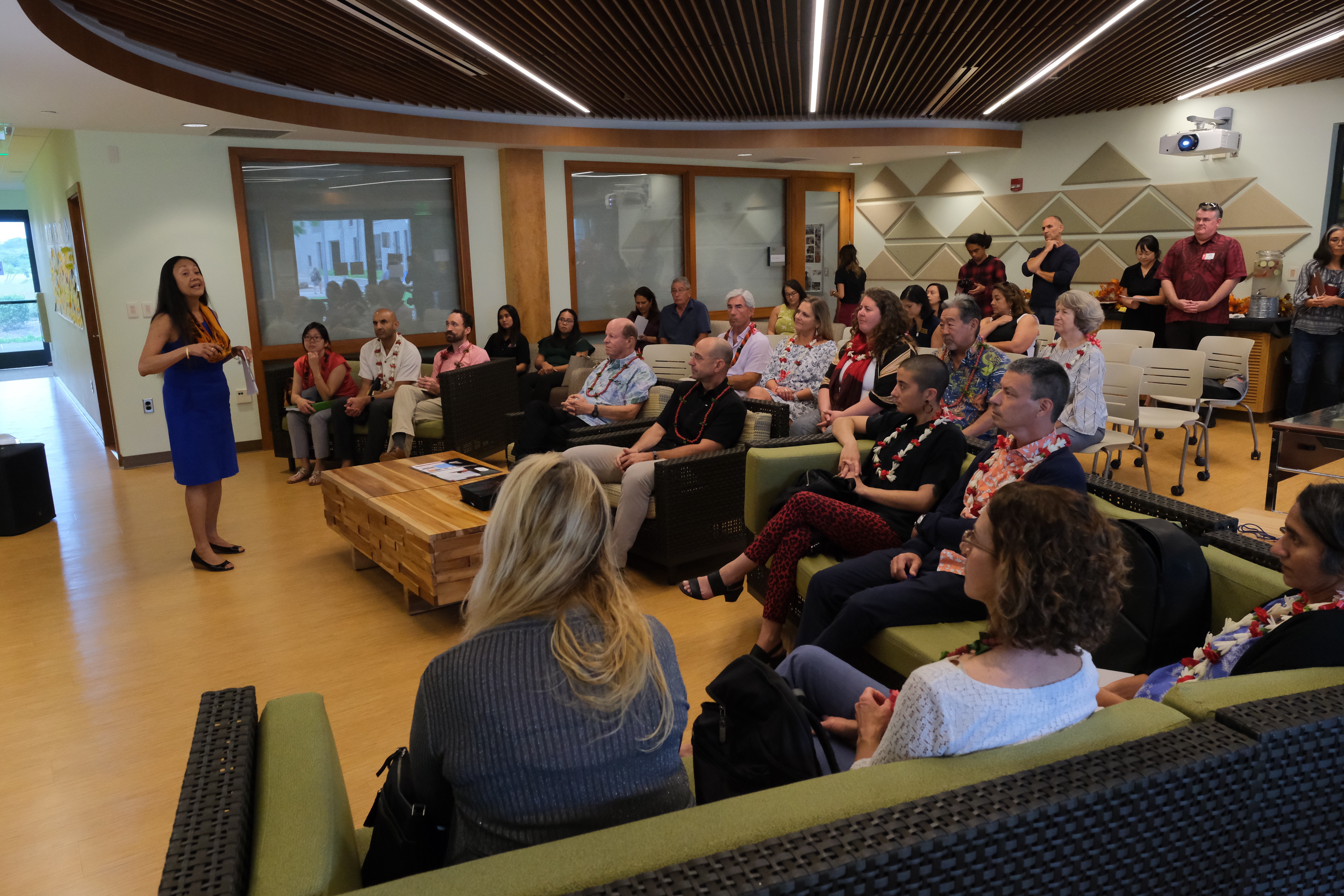 The University of Hawaiʻi–West Oʻahu welcomed the Stupski Foundation Tuesday to its Kapolei campus to share highlights of UH West Oʻahuʻs Sustainable Community Food Systems, Creative Media, and Health Sciences programs.
The Stupski Foundation is investing all of its assets over the next 10 years in the Bay Area and Hawaiʻi to make the greatest possible change in the communities it calls home. The Foundation was recently in Hawaiʻi continuing to explore funding innovative programs in postsecondary education and food security.
The Stupski Foundation's entire staff of 12 visited the campus and included chief executive officer Glen Galaich, chief program officer Parag Gupta and director of postsecondary success Jennifer Nguyen, as well as board of directors James G.B. DeMartini III, Thomas C. Layton, and Kelvin H. Taketa, former president and chief executive officer of the Hawaiʻi Community Foundation (HCF).
Also in attendance from HCF was Amy Luersen, vice president of community collaboration, and Michelle Kauhane, senior vice president of community grants and investments. The Stupski Foundation partners with HCF to understand Hawai'i's local context and find organizations that are working on issues that strategically align with its vision.
The visit was from 2 to 5 p.m. at the Nāulu Center, where the guests were greeted with beautiful lei and the singing of "Mele Honouliuli" by UH West Oʻahu students, faculty, and staff, as well as a warm welcome and introduction by UH West Oʻahu Chancellor Dr. Maenette Benham.
The event featured three presentations, starting with UH West Oʻahu and speakers Dr. Albie Miles, SCFS assistant professor; Sharla Hanaoka, director of the Academy for Creative Media at UH West Oʻahu; Dr. Kauʻi Baumhofer, assistant professor of Indigenous Health Sciences; and Vice Chancellor for Student Affairs Dr. Judy Oliveira, along with a student panel.
Miles focused on addressing hunger through the SCFS program and its community-based partnerships, such as with MAʻO Organic Farms. Hanaoka discussed student diversity, innovation and success via the Creative Media program, and its partnership with local high schools. Baumhofer covered the Health Sciences program, talking about indigenous health and the program's focus on the health and well-being of our most vulnerable communities.
Oliveira oversaw a panel of students who shared how UH West O'ahu helped them feel a sense of belonging, acquire leadership skills and find success. Throughout the presentation, there were also videos featured of students sharing their personal experiences and success stories, further showcasing UH West Oʻahuʻs different programs.
"I'm proud to be a student in the Sustainable Community Food Systems program, where they teach students like me how to think in a systematic and multidisciplinary way about our food systems in areas including politics, health, the environment and social well-being," senior Sydney Millerd shared in her video clip.
A social well-being issue that's often focused on in the SCFS program is food insecurity and hunger, which is a real issue that UH students are facing right now, said Millerd, who is also president of the Associated Students of the University of Hawai'i–West O'ahu.
"With the knowledge that we learn in the SCFS program, we hope to learn what systematic changes are needed to address that issue in the real world," Millerd said.
The second presentation for the Stupski Foundation focused on pathways to educational success in Hawaiʻi and featured speakers Dr. Tammi Chun, interim associate vice president of the University of Hawaiʻi Community College System, and Stephen Schatz, executive director of Hawaiʻi P-20 Partnerships for Education.
The final presentation of the afternoon was a research-based presentation about growing health and well-being with the hands of the community, with the Community Health Hub Initiative and Hawaiʻi Integrated Analytics (HIʻA). The speakers included HIʻA co-founders Drs. Alika Maunakea and Ruben Juarez, and MAʻO Organic Farms director of development and impact Claire Sullivan.
"We are grateful to the change-making team at UH West Oʻahu for talking to us about the power unified education systems have to transform students' lives," Stupski Foundation director of postsecondary success Jennifer Nguyen commented after the event.
The stateʻs single public school district and its connections to the UH system allow for incredible data pipelines and a macro-level view of how change can transpire, Nguyen added.
"It's clear the UH West Oʻahu team is planning systems-wide solutions that will support their fast-growing student body for years to come," Nguyen said.
For decades, Larry and Joyce Stupski have been committed to giving back to the communities they call home – the Bay Area and Hawai'i, according to the foundation's website. As the former president and chief operating officer of Charles Schwab, Larry was passionate about using his success to create opportunities for others. Joyce, a longtime entrepreneur and former educator, shares this vision and established the spend down foundation in 2015 to continue their commitment and honor Larry's memory. The Stupski Foundation primarily funds organizations that address hunger, postsecondary success, early brain development and serious illness care.