Ask Abbie Kahula Reed the reason she persisted and excelled throughout her academic journey at the University of Hawai'i–West O'ahu, and she'll name five reasons — Nevaeh, Shayden, Savannah, Shyne, and Tori — her grandchildren, ages 10 to 15.
The UH West O'ahu graduating senior, who at 63 years old is a senior in that respect as well, will be among the participants and one of two chosen student speakers at UH West O'ahu's Fall 2022 Commencement, taking place at 9 a.m. on Saturday, Dec. 10, on campus. The event is only open to registered, ticketed guests.
This semester, more than 300 students are candidates for graduation, and of these students, about 200 will be participating in commencement, which will celebrate Applied Science, Business Administration, Creative Media, Cybersecurity, Education, Humanities, Natural Science, Public Administration, and Social Sciences candidates.
"My grandkids are my No. 1 'why' I do what I do," said Reed, who will receive a Bachelor of Arts in Creative Media with a concentration in Communications and New Media Technology.
The Kapolei resident will share her inspiring story at the in-person commencement ceremony as one of the featured student speakers, who were chosen on criteria including academic achievement and a record of meaningful university or community service.
"I am proud of not just graduating from college, but finishing strong with honors, setting the bar high for my grandchildren," Reed said. "I can tell them now, 'If grandma can do it, you can do it, too, and then go even higher.' "
'Dedication and perseverance'
A 1977 Kamehameha Schools graduate, Reed described herself as a "Hawaiian Homestead gal" — born in Papakōlea, raised in Waimānalo, and now a homeowner at Malu'ohai Homestead in Kapolei.
Prior to becoming a student at UH West O'ahu, Reed worked for 16 years at HMSA, where she retired in 2017 as a Quest senior processor.
"When my husband unexpectedly passed away in 2016, I looked up for the first time to assess my life," Reed shared in a video testimony she created. "I realized that I lived life, all my life, with my head down, just focused on working a steady job to pay the bills. But something was missing. The decision to end the 8-to-4 work life and retire early was made in 2017 to fill the missing hole and live my best life, whatever it was."
In fall 2018, Reed enrolled at UH West O'ahu, where she decided to major in Creative Media and honed her skills as a storyteller and content creator.
As a student she thrived with the love and support of her 'ohana — her four children, five grandchildren, and five dogs.
"These are the people and animals that fed my purpose and supported my drive to finish strong," Reed said. "They are all my 'why.' "
Reed's daughter, who graduated in spring 2017 with a Bachelor of Arts in Public Administration degree from UH West O'ahu and now works on campus, said she feels blessed and honored to have her as her mom.
"I am extremely proud of her dedication and perseverance to overcome any obstacles that came her way," said Kimberly Reed, Admin and Fiscal Specialist, Title III Grants, ʻUpena Moananuiākea and Wailau Ola Pathway. "I've seen her go beyond her comfort zone, enduring many sleepless nights, and strive for extra credit to remain on the dean's list — even if she didn't need it — which is crazy! Although a bit extreme at times, I admire her for it and know that she would not have it any other way."
She continued: "Her ability to relentlessly search for solutions to problems and find innovative ways to improve the world is the key to this success and many to come. I am so humbled and proud to call her my mama; her hard work and dedication will forever be remembered and practiced within our ʻohana."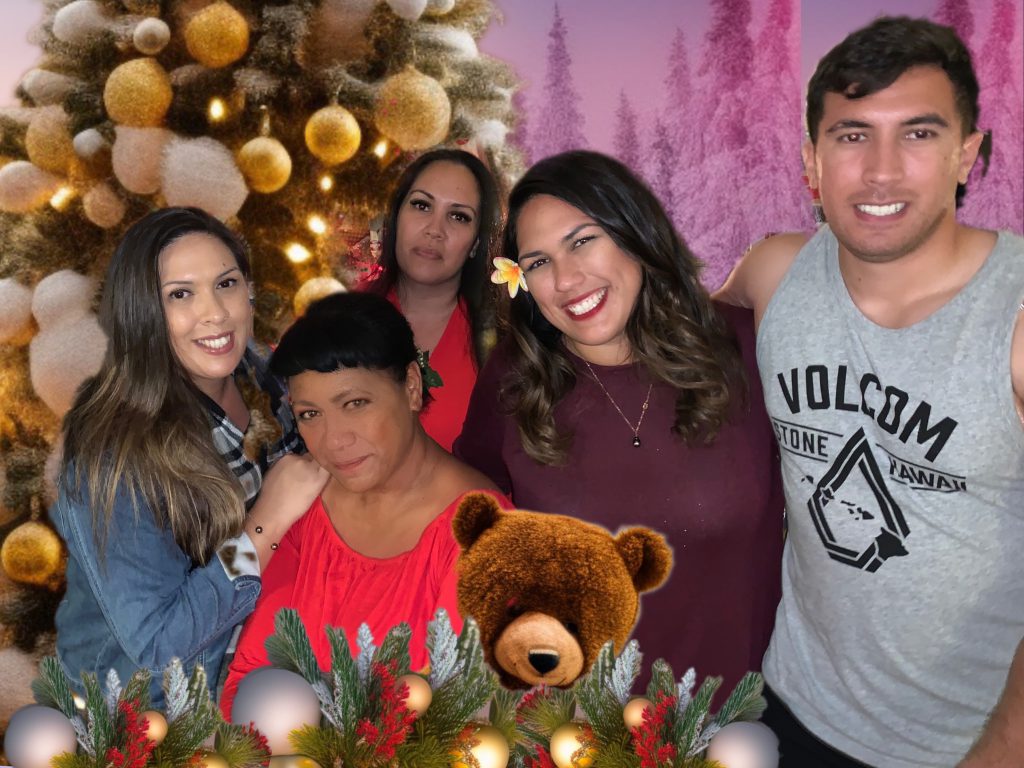 Making the world a better place
The recipient of various grants and scholarships, Reed thanks all those who helped and supported her throughout college via her Mahalo Testimony, a website that also showcases her creative skills.
Among those people are Sean Telles, Reed's mentor and instructor of her first video production course. Telles met Reed in January 2019 while lecturing Creative Media classes at UH West O'ahu, where he taught for three years.
Telles described Reed as "invaluable to the community" and praised her for her ability to connect with people, her genuine kindness and grace, and her hardworking qualities.
"She is respectful but fearless in her ideas to use her talents and passions to help the community," Telles expressed in a letter. "She also finds ways to keep Hawaiian culture at the center of her work, while simultaneously being a bridge for those who did not grow up with Hawaiian culture. In this divided world, she finds a way to be results-oriented and sensitive. It's a skill I wish I was better at doing: being authentic to her core beliefs while reaching out to bring together all types of people along for the journey."
The upcoming graduation means more than just receiving a diploma for Reed.
"It is a personal affirmation that life after retirement can be the beginning of new and wonderful adventures if you can dream it and remember that wherever you go, whatever you do, take God with you," she said.
Following graduation, Reed plans to pursue a Master of Arts in English degree with a concentration in Creative Writing at UH Mānoa.
"I plan to take my college journey to the next level in digital storytelling and marketing," she added. "My plan after graduation is simple — to harness and use my new digital storytelling skills to fulfill a purpose — to help make this world a better place for my grandkids and future generations."
Reed said she will also continue documenting and sharing her stories on her YouTube channel HappyAbbieDaze and website Two Tutus Talking to make a difference.
"Every lesson from my professors and guiding nudge from school counselors helped me discover the purpose for which I was put on earth," Reed said. "The realization that a goal is just a goal unless you know the 'why' you do the things you do — your purpose — was life-changing."
And the lesson she hopes to share with her fellow graduates and others in attendance at this Saturday's commencement?
"Don't let fear of failing minimize your goals," Reed said. "Expect to fail. Prepare for it. Learn from it and do it better the next time. Then go bigger and bolder."
Click here to read more about Nyle Jordan Ocariza, who was also selected to be a Fall 2022 Commencement student speaker. 
Image courtesy of Abbie Reed