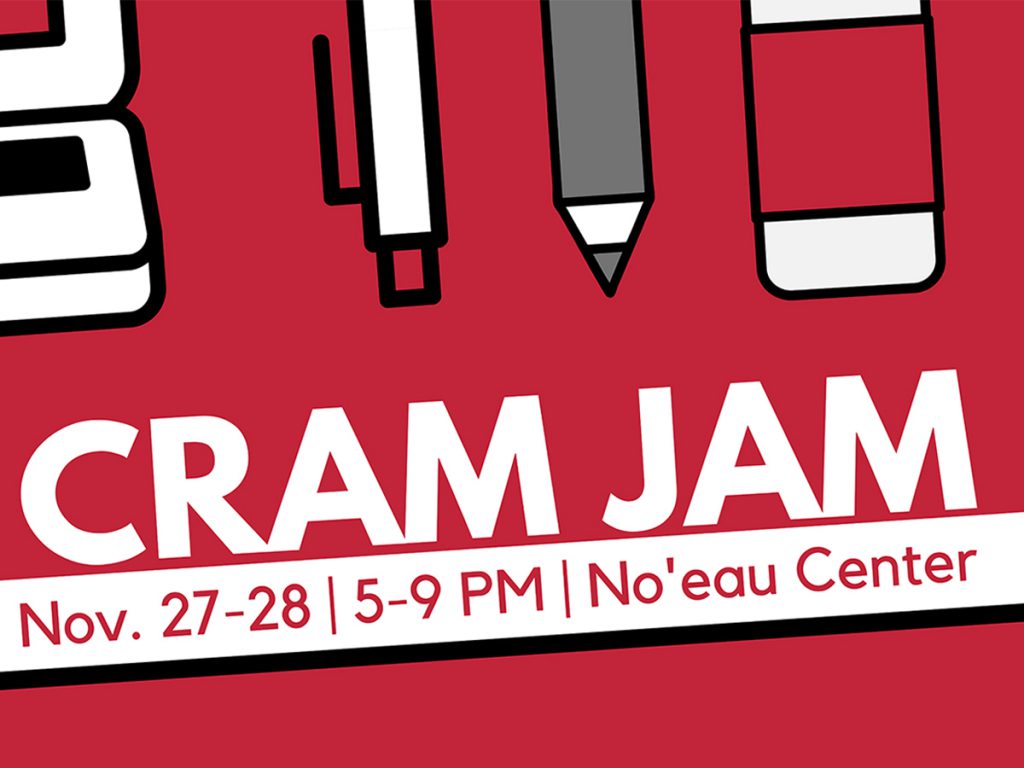 There's end-of-semester support for anxious students, whether they need help with difficult subjects, a late-night place to study, or just a free cup of coffee.
The end of the semester is fast approaching, with the last day of instruction set for Nov. 30 and finals week scheduled to begin the on Monday, Dec. 3. The Noʻeau Center, the Office of Student Life, the Associated Students of the University of Hawaiʻi – West Oʻahu, and the Student Activity Fee Board have scheduled help for hard-studying students.
Beginning Monday, Nov. 26, and continuing through Thursday, Nov. 29, students will be treated to free coffee, snacks and "survival week" essential item during the day, from 10 a.m. to 2 p.m. in the Courtyard, and D and E building tunnels. The event runs from 10 a.m. to 2 p.m. each day.
After dark, students looking for a place to study can either head to the James & Abigail Campbell Library (closes at 9 p.m.) or take advantage of study areas that remain open until 1 a.m.  This includes:
Night Owl Nook: Monday to Thursday, from 7 p.m. to 1 a.m. the Campus Center Loft, Student Lounge and Nāulu Center will offer study space, along with coffee, hot cocoa, snacks and a "mini-finals week survival kit" (one per student). In addition there will be other sustenance: On Monday hungry students will be offered soup; on Tuesday and Wednesday it will be snacks and saimin; while Thursday the menu includes Chili, hot dog, and rice.

Night Owl Nook at C225: On Wednesday and Thursday C225 will be open from 8:35 p.m. to 1 a.m.

Cram Jam. The Noʻeau Center will extend its hours and remain open from 5:00 to 9:00 p.m.  Tuesday, Nov. 27, and Wednesday, Nov. 28. Cram Jam features tutor assistance, free food, and a space for individual or group study.  There will also be faculty-led study sessions at various times; faculty interested in hosting a session can do so here:

 

https://goo.gl/forms/S1tBkzUlIyPXb3Av1