The UH West Oʻahu community will have two musical opportunities this week when the Galliard String Quartet and singer, songwriter and slack-key artist Danny Carvalho visit campus.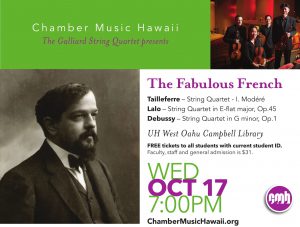 On Wednesday evening Chamber Music Hawaiʻi's Galliard String Quartet will take advantage of the great acoustics of the James & Abigail Campbell Library when it performs a program titled "The Fabulous French." The evening will feature the music of turn-of-the-century composers Germaine Tailleferre, Édouard Lalo, and Claude Debussy.
The performance is scheduled from 7 to 9 p.m., Wednesday, Oct. 17. UH West Oʻahu students with a current ID can attend for free; UH West Oʻahu faculty and staff receive a $5 discount off of the $31 general admission price.
On Thursday afternoon, Na Hoku Hanohano and Grammy nominated singer, songwriter, and slack-key artist Danny Carvalho will appear at a Hoʻokani Kulanui, an opportunity for students, faculty, staff and community members to join in music making or just listen. Carvalho will join with multi-Hōkū-award winner and UH West Oʻahu faculty member Bobby Moderow Jr. for the 1 to 3 p.m. session in the UH West Oʻahu Dining Hall.
The event is free and is is sponsored by the UH West Oʻahu PIKO Project which is funded by a U.S. Department of Education Title III grant, and the UH West Oʻahu Humanities Division – Music program.
Images courtesy of Danny Carvalho and Chamber Music Hawaii