UH West Oʻahu honored its pioneering graduates during its Spring 2018 Commencement Ceremony, presenting them with a special medallion commemorating their graduation in 1977.
The six were celebrated as Nā Lehua ʻŪla Scholars and cited for their role in UH West Oʻahu history. The May 5 ceremony included two of UHWO's original faculty, Dr. Dan Boylan and Dr. Ned Shultz, who presented Mila M. Kaʻahanui and the families of Miles Hashida, Richard LaGory and Eulogio Tabisola with the Nā Lehua ʻŪla medallion and certificate. Pictures and a short article about the ceremony are on the UH Foundation Alumni website.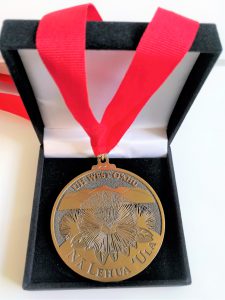 According to the book "The University of Hawaiʻi-West Oʻahu: The First Forty Years," by the late former UHWO Chancellor Edward J. Kormondy, the first commencement was held on May 21, 1977 in a classroom space within the Newtown Square Office Building in Pearl City, with Hilda Miwa, wife of then Chancellor Ralph Miwa, playing the processional on a piano and the post-ceremony celebration featuring a buffet from a restaurant on the first floor of the building, the Elephant Castle.
Hashida received a degree in Social Sciences, while Deborah Robbie Huggins was awarded a Humanities degree.  LaGory, Kaʻahanui and Christopher Wilks also received Social Science degrees, while Tabisola was awarded a Professional Studies degree, according to Dr. Kormondy's book.
The commencement capped the Spring 1977 semester, during which 157 students were enrolled at West Oʻahu College. Kormondy's book noted the school had begun in January 1976 with 75 students after years of opposition to the creation of another University of Hawaiʻi campus.
Images courtesy of UH Foundation and UHWO Staff