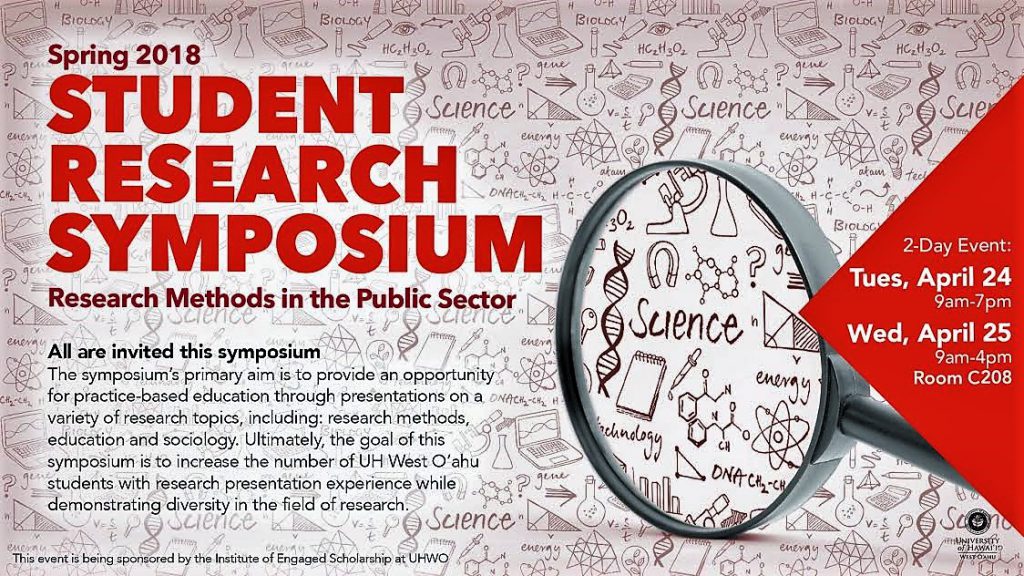 Students will present posters detailing their research, participate in roundtable discussions, and engage in panel discussions and oral presentations as they take center stage in a research symposium next week.
The Student Research Symposium will feature students from four divisions displaying their work during the two-day showcase at the Campus Center Multipurpose Room (C208) Tuesday, April 24, from 9 a.m.-7 p.m. and Wednesday, April 25, from 9 a.m.-6 p.m. The symposium is sponsored by UH West Oʻahu's Institute of Engaged Scholarship.
Faculty members say they like having their students participate in the symposium presentations, whether it be to experience presenting research in a professional setting or learning how to handle tough questions when queried during their presentation sessions.
Dr. Camonia Graham-Tutt, an assistant professor of Community Health, Division of Public Administration, said, "PUBA students take real world issues and arrive at real-world solutions to these issues while conducting their research." She added that by participating in the symposium, students are provided with an opportunity to enhance their presentation confidence. Graham-
Tutt noted she has witnessed each student participating in the symposium beam with pride as they share their work with faculty and the community. (Course in the symposium: PUBA 310 Research Methods in the Public Sector).
"It is exciting to watch the students engage in dialog, expanding their personal knowledge of a specific topic as they are becoming lifelong learners," said Dr. Laurie James, an assistant
professor of Math Education, Division of Education. (Course in the symposium: EDEE 462 Elementary Math Methods).
Dr. Orlando Garcia-Santiago, associate professor of Sociology, Division of Social Sciences, said he hopes his students will receive insightful feedback from other students and faculty as well as learning from other presentations and gaining helpful experience for future academic and/or professional conferences. (Course in the symposium: SOC 469 – Sociology of Sexuality).
The symposium "provides a venue for students to see the different approaches to sharing their research as well as opportunities to work with other disciplines. Students will gain experience in presenting their study in a professional setting. Students are able to share their study and get feedback from a broader audience," said Drs. Cathy Ikeda and Stephanie Kamai, Assistant Professor and Associate Specialist, Division of Education, respectively. (Courses in the symposium: EDEE/EDML/EDSE 490:Student Teaching and  EDEE/EDML/EDSE 492: Student Teaching Seminar).
That feedback also may be used to sharpen student's future work.
"The 2018 Student Research Symposium provides our students with an opportunity to present their work and receive insightful feedback from faculty of sociology and other disciplines on how to improve the quality of their research," said Dr. Konstantinos Zougris, assistant professor of Sociology, Division of Social Sciences, whose Senior Project students are participating in the symposium. (Course in the symposium: SSCI 486S – Senior Project Sociology- (WI).The symposium will also include roundtable discussions in which teacher candidates discussing ethical dilemmas such as learning disabilities, medication, and teacher
behaviors will be able to demonstrate their ability to articulate their use of critical thinking skills,knowledge of current work in the field, and research methods.
"This research symposium offers my students the opportunity to share their knowledge with the campus and local community by using their voice to showcase their thought processes when faced with an ethical dilemma," said Dr. Paula B. Major, Division of Education associate professor. (Course in the symposium: EDEE 402 Social Studies Methods).
Even a student networking session that's being led by the UH West Oʻahu Law Society is seen has being an educational opportunity for students. Lorinda Riley, a Division of Public Administration instructor, said the session will provide an opportunity to network, which is an important part of any career. She said the networking session will offer a chance to develop this critical soft skill in a friendly environment.(Group in the symposium: UWHO Law Society).
Spring 2018 Student Research Symposium Agenda
Tuesday, April 24, 2018  
9:00 – 9:30 a.m.           Registration & Coffee
9:30 – 10:50 a.m.         Poster viewing is open
10:50 – 11:00 a.m.       BREAK, 10 mins
11:00 – 2:00 p.m.        Oral Presentations- Sociology Division
2:00 – 2:30 p.m.          BREAK, 30 mins
2:30 – 3:30 p.m.          Poster Presentations​- Education Division
3:30 – 7:00 p.m.          Roundtable  and Poster Presentations- Education Division
Wednesday, April 25, 2018 
9:00 – 9:30 a.m.          Registration & Coffee
9:30 – 10:50 a.m.         Poster Presentations- Public Administration & Business divisions
10:50 – 11:00 a.m.       BREAK, 10 mins
11:00 – 1:50 p.m.         Student Networking Session- Led by UHWO Law Society
1:50 – 2:00 p.m.          BREAK, 10 mins
2:00 – 3:30 p.m.          Roundtable Presentations​- Education Division  
3:30 – 4:00 p.m.          BREAK, 30 minutes
4:00 – 6:00 p.m.          Poster Presentations- Education Division (Nāulu Center for Culture, Engagement and Well-being)
Images courtesy of UHWO Staff and Orlando Garcia-Santiago