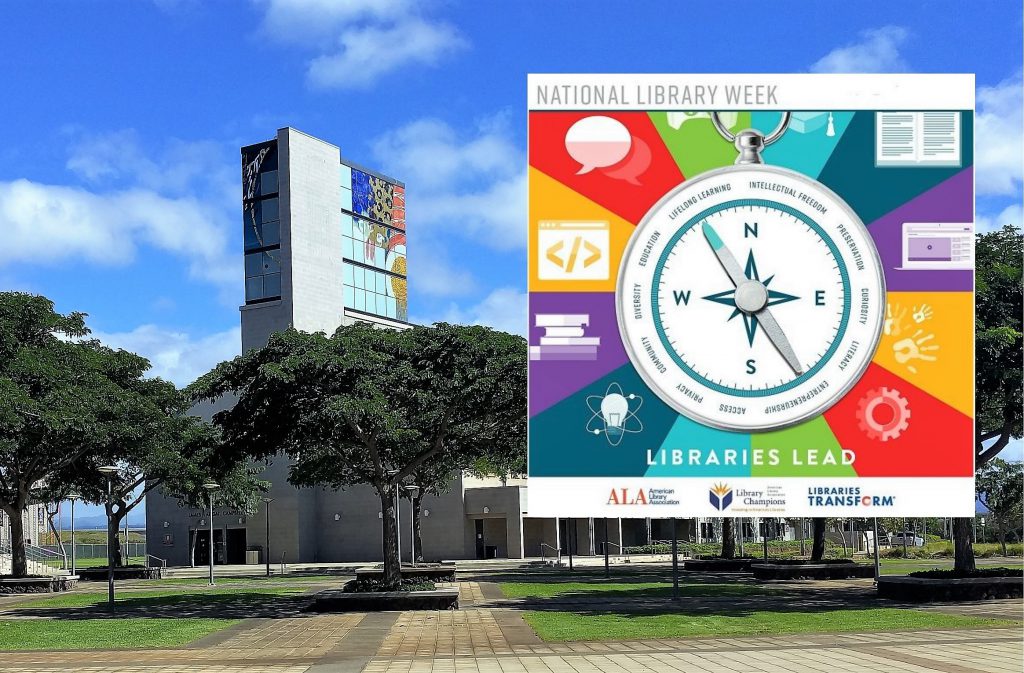 The James & Abigail Campbell Library will be celebrated beginning Monday, April 9, as part of a national spotlight cast annually on libraries that recognizes the importance of libraries and librarians' contributions along with promoting the use and support of libraries.
The campus library is planning several activities in observance of National Libraries Week, which
is in its 60th year. This includes
$100 gift card giveaway: Tell librarians how they are doing by taking the library's annual survey and be entered for the gift card drawing. Beginning Monday, April 9 you can access the survey here:

www.tinyurl.com/uhwolibrary2018

 ;

Instagram Contest

: Post a picture to Instagram with a caption about why the library is important to you and you could win a movie or dinner gift pack.

Don't forget to @ or tag us

#UHWOLibrary

; and,

Watch Instagram: Follow the

library's Instagram feed

to learn about activities that will occur during the week.  For example, the

Student National Education Association

at UH West Oʻahu will host a photo booth on Tuesday, April 10 from 2 to 4 p.m.
The James & Abigail Campbell Library is in some respects a centerpiece for the campus with its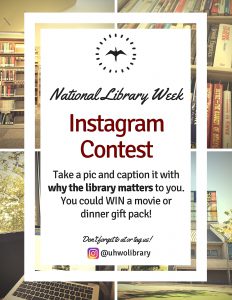 iconic, 100-foot tall beacon tower, study spaces, collection, research materials and exhibitions.  The 60,000-square-foot building also is home to the ʻUluʻulu Archive, the Center for Labor Education and Research, No'eau Center, an IT Help Desk, and a number of works of art.
The library on April 5 published its new website with a more modern design and focus on the most frequently used research tools.  The site is available at https://www.uhwo.hawaii.edu/library/.
"For the University of Hawaiʻi at West Oʻahu community, the James & Abigail Campbell Library has been committed to meeting the needs of over 3,000 students with technological support, group study rooms, and tutoring services," wrote U.S. Sen. Brian Schatz of Hawaiʻi in a congratulatory letter for National Library Week.  "Mahalo to all the library staff and volunteers for your hard work and dedication."
The theme for 2018 National Library Week is "Libraries Lead," and notes that from free access to books and online resources for families to library business centers that help support entrepreneurship and retraining, libraries offer opportunity to all.  
Image courtesy of UHWO Staff