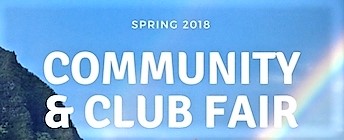 UH West Oʻahu's Community and Club Involvement Fair will bring together student clubs and Kapolei businesses and organizations in the UHWO Courtyard this Wednesday, Jan. 31, and Thursday, Feb. 1.
The fair is scheduled to run from 11 a.m. to 2 p.m., during which time students are encouraged to visit tables and consider signing up. The event, sponsored by the Office of Student Life, is designed to help students make the most of their college experience by joining a student organization or club to make connections and build relationships.  
The theme of the fair is "Around Da Island," which asks students to take to visit different clubs, programs, and businesses. Students who get signatures from four tables qualify for free food.
The Office of Student Life is organizing the event and is asking faculty, instructors and lecturers to encourage students to get involved and learn about the wealth of student organizations on campus.
More than 15 clubs, organizations and businesses are expected:
Pueo Leadership

Associated Students of the University of Hawaii -West Oʻahu

Sports Fanatics

UHWO Accounting Club

University of Hawaiʻi Federal Credit Union

PSI CHI

University of Hawaiʻi-West Oʻahu Bookstore

Gamma Iota Sigma

Host Club

UFC Gym-Waikele

HulaShake

Anytime Fitness

Photography Club

Leaves of Opportunity

Hawaiʻi Tours Expert

Ke Ola Mamo

Papa Ola Lokahi

State of Hawaiʻi Office of Elections
Image courtesy of UHWO Staff