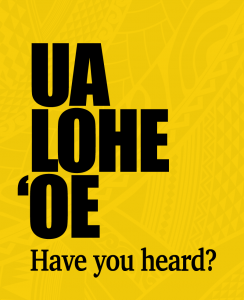 Ua lohe ʻoe? (Have you heard?)
ʻO ka ʻŌlelo Hawaiʻi o ka pule ʻo (The Hawaiian word or phrase of the week is) He lawaiʻa no ke kai pāpaʻu, he pōkole ke aho; he lawaiʻa no ke kai hohonu he loa ke aho (A fisherman of the shallow sea uses only a short line; a fisherman of the deep sea has a long line).
A person whose knowledge is shallow does not have much, but he whose knowledge is great, does.
(Pukuʻi, 1983)
Ua Lohe ʻOe is brought to the UH West Oʻahu ʻohana by the UH West Oʻahu PIKO Project, which is funded by a U.S. Department of Education Title III grant.
Image courtesy of UH West Oʻahu