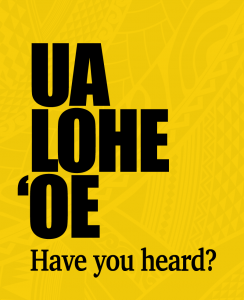 Ua lohe ʻoe? (Have you heard?)
ʻO ka ʻōlelo Hawaiʻi o ka pule (the Hawaiian word or phrase of the week) ʻo kula nui (college or university).

"Hele au i Ke Kula Nui o Hawaiʻi ma ʻEwa" (I go to the University of Hawaiʻi – West Oʻahu)
Ua Lohe ʻOe is brought to the UH West Oʻahu ʻohana by the UH West Oʻahu PIKO Project that is funded by a U.S. Department of Education Title III grant.
Image courtesy of UH West Oʻahu