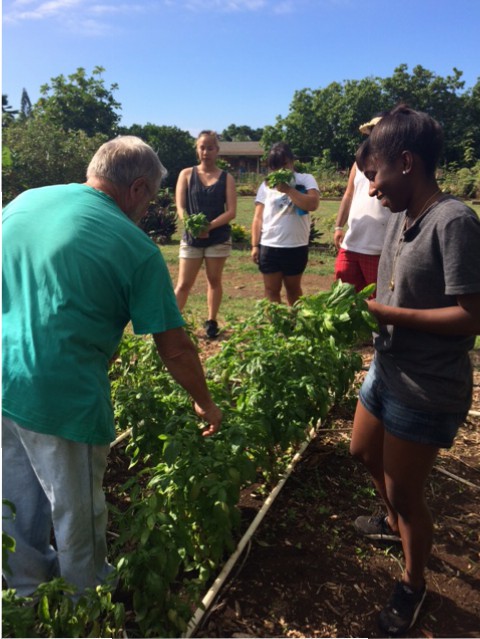 Students from all different concentrations and walks of life came together to examine the food system in Hawaiʻi through service and experiential learning in the hybrid "Politics of Food" class taught by Dr. Monique Mironesco in spring 2015. The class is an elective for Political Science concentration students and a core requirement for the new Sustainable Community Food Systems concentration. "Politics of Food" students combine online lectures and food system-related films with service learning trips to farms in the Leeward, North Shore and West Oʻahu areas. The experiential learning field trips included
helping Leeward Coast community residents plant container gardens to take home and grow their own food at Hoa ʻAina O Makaha under the supervision of Gigi Cocquio.
working in the Waialua Elementary School garden alongside community members from the adjacent Mohala Farms to get planting beds ready for students in grades K-1 and 3-4 to plant and tend to curriculum-related plants
working in the UHWO garden, planting culinary herbs and double digging a new row for crop production supervised by UHWO Assistant Professor of Sustainable Community Food Systems, Dr. Albie Miles.
working with UHWO community partner MAʻO Organic Farms to clear weeds in several production areas including tapioca and parsley rows.
The students were rewarded for all of their hard work with a tour of the Kapiʻolani Community College farmers' market with prominent Honolulu chef Ed Kenney of Town Restaurant, examining how the food system works at a farmers' market and how the relationship between farmers and chefs raises awareness of the policies and actions necessary for a truly sustainable food system in Hawaiʻi. Students were subsequently treated to a delicious lunch at Kaimuki Superette, prepared by Kenney's partner, Chef Dave Caldeiro. View photos of the "Politics of Food" service learning trips on the UHWO flickr page.
Image courtesy of Monique Mironesco