ʻŌiwi TV
's ʻAina Paikai and
FITTED Hawaiʻi
's Keola Rapozo on Monday, Oct. 12 from 11 a.m.-noon in the UH West Oʻahu Library ʻUluʻulu Archive Exhibition Space.
The panelists will offer advice for students interested in careers in media or art and discuss how growing up in Hawaiʻi influences their professional decisions. The discussion will be facilitated by a UHWO creative media student. UH West Oʻahu  and Leeward Community College student attendees are eligible to win free gear from FITTED Hawaiʻi and ʻŌiwi TV.
About the panelists
ʻĀina Paikai, ʻŌiwi TV
A 2002 graduate of Pearl City High School, Paikai attended Leeward Community College and went on to receive a bachelor's degree in arts and science from the University of Hawaiʻi at Mānoa in 2010. Paikai studied under indigenous filmmaking pioneer, Merata Mita, who ignited his passion to tell stories. ʻĀina's short films have been selected to screen at several international film festivals, and in 2013 he became a Sundance Native Lab Fellow. Paikai is currently on a mission to pursue independent filmmaking in Hawaiʻi, and sharing Hawaiian stories from a Hawaiian perspective.
Keola Rapozo, FITTED Hawaiʻi
Keola Rapozo was born and raised in the Koʻolaupoko area of Oʻahu. A product of Kahaluʻu, Rapoza knew from a young age that his calling in life was design. His enthusiasm for awe-inspiring patterns, motifs and composition eventually led him to attend Honolulu Community College, where he majored in fashion design technology. After graduating, he received an internship with local resort wear staple brand Tori Richard. His internship included everything from storyboarding, archiving, photography, color specializing, and artwork design. After five years at Tori Richard, Rapozo gave in to his natural entrepreneurial spirit and in 2004 partnered up with longtime friend Rene Matthyssen. Together they opened FITTED, the first hat boutique in the world specializing in custom New Era caps, in-house designed T-shirts and accessories. Rapozo has also embarked on architectural furniture and design projects including the Italian-American restaurant Prima, the Whole Ox deli, and other venues.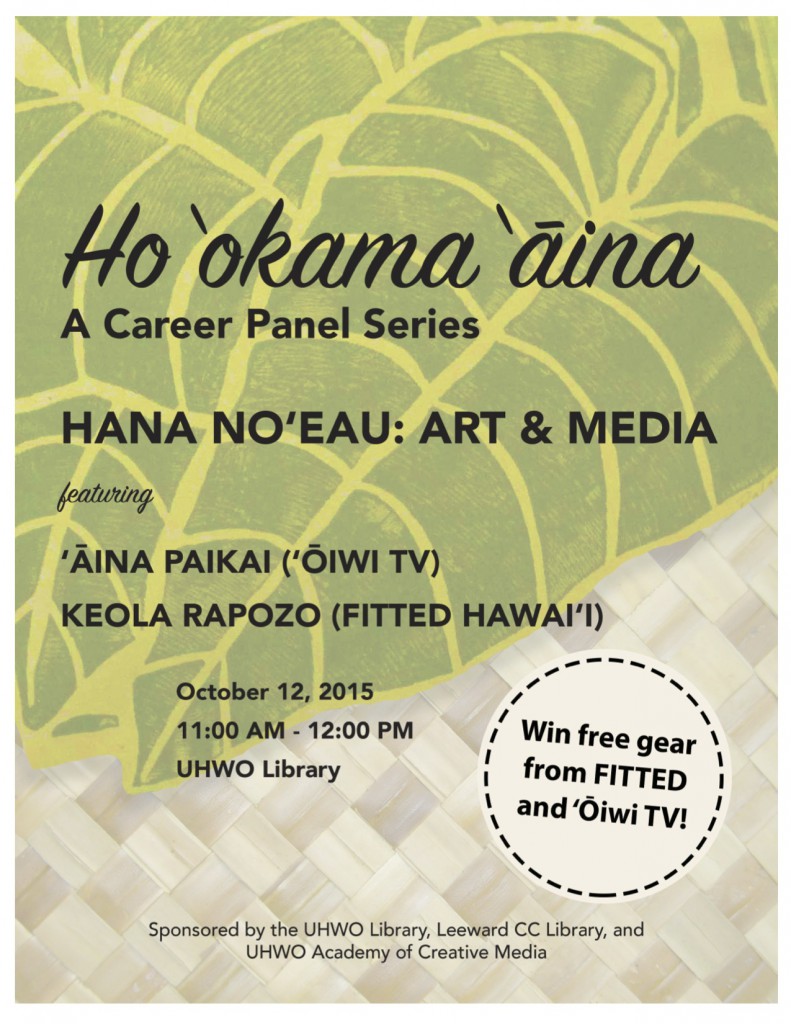 Related article:

Learn about careers and graduate school at UHWO Fall 2015 Opportunities Fair, Oct. 12

Images courtesy of Jonas Maon and ʻĀina Paikai and Loea Akiona

The UH West Oʻahu Library, Leeward Community College Library, and the UH West Oʻahu Creative Media program will host the Hoʻokamaʻāina Career Panel Series "Hana Noʻeau: Art and Media" featuring