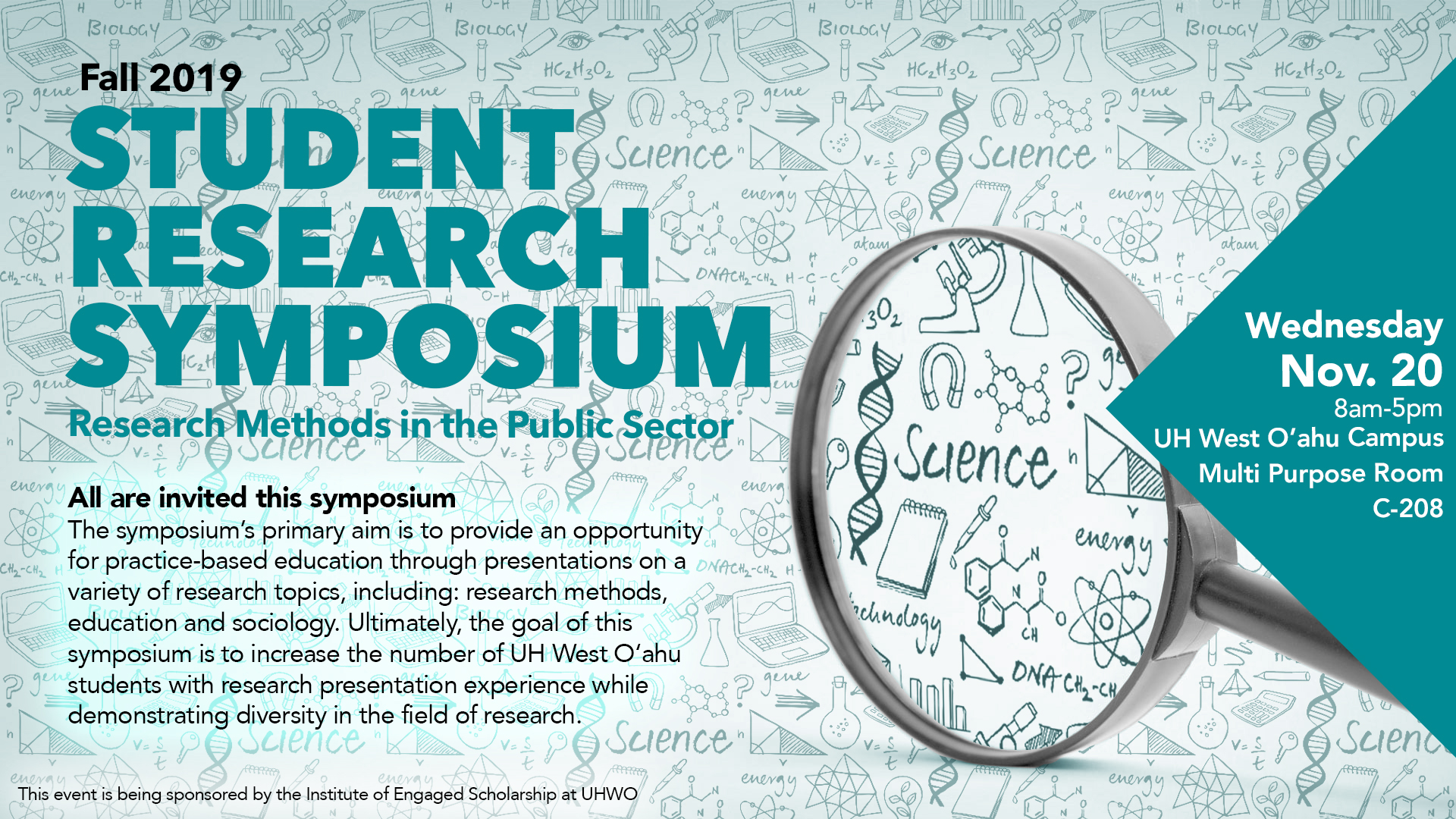 Increasing the number of UH West Oʻahu students with research presentation experience while incorporating diversity in the field of research is the goal of the Student Research and Creative Works Symposium, set for Wednesday, Nov. 20, 8 a.m. to 5 p.m. in C-208.
The fall symposium will provide an opportunity for practice-based education through presentations on a variety of research topics, including: research methods, education, justice, business, public administration, health and STEM-related fields.
Each semester the UH West Oʻahu Student Research Symposium is held to support the development of student research and oral presentation skills, said Dr. Camonia Graham-Tutt, an assistant professor of Community Health, Division of Public Administration.
"Students participating in the symposium come from an array of programs across campus, and are mentored by faculty from many different disciplines, thus making this event an open forum for transdisciplinary work to emerge," she said. "We are excited to host this event through support from the Chancellor's Office and the Institute of Engaged Scholarship as an activity for students, faculty and the greater community to come together to support our West Oʻahu students."
This semester, the symposium will include poster, oral and roundtable presentations; totaling upwards of 75 students presenting in one form or another.
"One new and exciting addition to the symposium is that we will be hosting a few student presenters from Leeward Community College, who after hearing about this event are looking forward to sharing their research," Graham-Tutt said. "It is our hope that this event will continue to grow as a source for students to gain experience in presenting in a conference like setting, to encourage more faculty to become research mentors to undergraduate students and to enhance community support."
Among the new and returning faculty participating in this semesterʻs symposium:
Name: Dr. Bradley Ashburn, Mathematics, Natural and Health Sciences
Group Project: Determining the Lipophilicity of Energy-Enhancing, Nootropic Nutritional Supplements
How students will benefit from being in the symposium: "My student researchers will gain valuable experience visually representing their scientific discoveries and orally articulating their findings to a general audience. Building professional presentation skills will be transferable to all aspects of advanced collegiate study and in their future careers."
Name: Dr. Lorinda Riley, Public Administration
Course in the Symposium: PUBA 316 Constitutional Law
How students will benefit from being in the symposium: "Students will be reviewing a constitutional law case heard before the State of Hawai'i Supreme Court or U.S. Supreme Court related to Hawai'i. After researching and analyzing the case they will be creating a trial court transcript, which will be shared with the King Kamehameha IV Judiciary History Center for possible Inclusion in their holdings. This project aid in student understanding of the case as well as provide a mechanism for them to highlight their knowledge of the judicial system."
Name: Dr. Lynette Williamson, Mathematics, Natural and Health Sciences
Courses in the Symposium: PUBA 101 Health Careers and  PUBA 301 Health Care Administration
Group Project: Healthcare Workforce Training
How students will benefit from being in the symposium: "Students often require additional exposure avenues to build their confidence and to solidify what they are learning and experiencing in the classroom.  This symposium is a low-risk and high-yield environment, being on campus that will allow them to get both exposure and build confidence."
Name: Dr. Rebecca Romine, Mathematics, Natural and Health Sciences
Course in the Symposium: Human Anatomy & Physiology II Lab (PHYL 142L)
How students will benefit from being in the symposium: "Students will gain experience compiling, analyzing, and presenting data from lab experiments in a concise format and to develop their ability to communicate scientific ideas in a low-stakes, supportive environment. Students will learn how to explain a concept in different ways, providing a uniquely focused and extended discussion on the science that they wouldn't receive from simply turning in a written paper."
Course in the symposium:
EDEF
 404 Teaching Culturally Linguistic Diverse Learners (W) (E)
How students will benefit from being in the symposium: 10 Teacher candidates will participate in a round table discussion. In pairs, teacher candidates will share their research experience with UHWO faculty, staff, students as well as the West O'ahu community during the Student Research Symposium. Each teacher candidate will address how he/she begin with an educational ethical dilemma that he/she faced or observed while out in the field. Teacher candidates' will then examine their personal morals, and values to see how conflicts are at play. Possible options are then researched to consider "the most appropriate" resolution(s) by the teacher candidate. Options must then be supported by research claims, i.e. historical background, court cases, what experts say, research articles, etc. Based off research findings, teacher candidates describe the course of action he/she will make.
Teacher candidates will gain experience in participating in a research symposium. This opportunity allows for practice and expose to speaking with an adult audience. Thus, teacher candidates are able to strengthen their communication skills by using their academic language. By researching educational ethical dilemmas, teacher candidates must critically think and problem solve when determining "the most appropriate" resolution(s). Most importantly, teacher candidates gain ways to check their sources, ask good questions and go beyond surface level diagnostics when solving their professional issues.
Other faculty with students participating in the symposium:
Dr. Camonia Graham-Tutt, Mathematics, Natural and Health Sciences
Dr. Laurie James, Education
Dr. Eli Tsukayama, Business Administration
Dr. Olivia George, Mathematics, Natural and Health Sciences
Dr. Eric Wen, Business Administration
Dr. Kamuela Yong, Mathematics, Natural and Health Sciences
Dr. Lisa Spencer, Public Administration
Instructor, David Dinh, Business Administration
Symposium mentor judges:
Dr. Thomas Scheiding, Social Sciences
Dr. Lynette Williamson, Mathematics, Natural and Health Sciences
Instructor, Leslie Rush, Business Administration
Instructor, Josh Stoll, Humanities