For someone who never stops moving and strives to reach greater heights, it was a definite inflection point.
In 2014, Chael Kekona was studying visual merchandising in Los Angeles. But falling ill, she needed to return home to ʻEwa. Aspirations were sidelined and doubts were seeping in.
"It was a weird period of my life where I felt unsure and didn't know what would happen next," said Kekona, who moved back only to triumph at Leeward Community College and then UH West Oʻahu. Now, at 24, she has worked her way up from intern to Community Programs Manager at the Hawaiʻi Tourism Authority.
The setback in California was an uncharacteristic glitch in Kekona's life. She did well at Kamehameha Schools, serving as yearbook editor and chief of staff one year, and as an officer of the school's recycling club during her senior year. She credits an Advanced Placement Psychology teacher, Jay Kauka, as instilling a drive to push herself to greater academic heights as well as to strive for being a good and industrious person. 
"He just really inspired, and motivated us to be the best in whatever we wanted to do," Kekona said. By the time she graduated, she knew what she wanted and she applied and enrolled at the Fashion Institute of Design and Merchandising in Downtown Los Angeles. The school had a design and visual communications program that appealed to her. 
"I was like, 'I need to get off this island and get away,' " Kekona said. Instead, the move led to a better appreciation of Hawaiʻi and what she's passionate about today.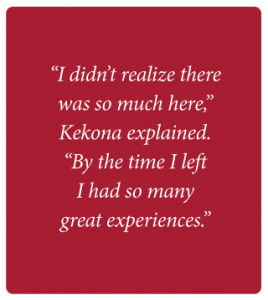 "After I came home I didn't know what I wanted to do," said Kekona. Kekona discovered she appreciated serving others and bringing joy to other people's lives. She went back to school and graduated from Leeward Community College with an associate degree and a 4.0 GPA, along with an academic subject certificate in Hawaiian Studies.
When she considered her next step, UH West Oʻahu stood out. Kekona said she has always done well in smaller classes and that appealed to her about UH West Oʻahu. The tuition also was less than some of the other options, and then there was its location. For someone who likes to keep busy, taking two hours a day to attend school in town was time that could be spent doing something else.
"It didn't make sense for me," said Kekona.  "Everything I was doing was on the West Side."
The choice turned out to be better than good for Kekona, as she thrived on the new campus. She initially enrolled to pursue Business Administration degree with a concentration in Marketing, given her prior interest in marketing. When UH West Oʻahu began offering a Hospitality and Tourism concentration, she added that too.
"I didn't realize there was so much here," Kekona explained. "By the time I left I had so many great experiences."
As such, Kekona may be the walking definition of someone who works hard creating their own luck. Or maybe someone who learns for the sake of learning and unwittingly accumulates skills, experiences, and degrees that prepare her for opportunities that arise. Call it serendipity, but she's got it.   
For example, Kekona was a member of the National Millennial Community, a group focused on changing stereotypes about the millennial generation. That dovetailed nicely with her interest in marketing. When she took up studying Hospitality and Tourism, she was encouraged by Dr. Holly Itoga, Assistant Professor of Hospitality and Tourism, to co-found the Hospitality and Tourism Club. She also got an internship at the Four Seasons Resort Oʻahu at Ko Olina, and she later was one of the students receiving a scholarship to attend to the 2017 Hawaiʻi Global Tourism Summit.
After one of the talks at the summit, she introduced to the speaker, the Hawaiʻi Tourism Authority's Kalani Kaʻanāʻanā, and asked about internship opportunities. By January 2018 she was working as an intern at the HTA, which strategically manages Hawaiʻi tourism to ensure the sustainability of tourism and its benefits for residents and local communities. 
"Chael was always so excited to learn and experience as much as she could and took the initiative to go after what she wanted, and had internships and mentorships across the hospitality industry," Itoga wrote in an email. "We are also grateful that she was a founding member of our HOST club and created the logo and social media sites that will live on as students continue to exemplify what our HOST program is about."
After her internship ended and after her graduation from UH West Oʻahu, Kekona visited the HTA offices with some snacks brought home from a trip. By coincidence, someone in the office was leaving and her former supervisor had thought of Kekona as a possible candidate for the job. 
Kekona interviewed for the post, and soon was working as Community Programs Coordinator, a role in which she helped administer contracts HTA has with community-based tourism projects and reinvesting in Hawaiʻi's communities, people, culture and place. 
Kekona had not seen herself ending up at the tourism agency. But in a way she had unintentionally taken a route that helped prepare her for the job. The marketing background helps at the state's chief tourism marketing agency, and the decision to add Hospitality and Tourism to her degrees helped immensely. 
UH West Oʻahu's Business Administration degree is structured to give students a solid foundation in business principles, including accounting, business law, economics and management classes. Marketing students learn to evaluate and develop advertising, public relations, and direct mail campaigns, as well as examine the science of consumer behavior and business in the context of promotion and publicity; the Hospitality and Tourism concentration prepares students for managerial positions with a local and global perspective of the industry; students have the opportunity to expand their knowledge of the service oriented economics and concepts of hospitality and tourism.
"It worked great for me," Kekona said of her UH West Oʻahu experience. "It led me to where I am."
In February, Kekona was promoted to HTA Community Programs Manager, helping oversee 58 contracts worth $2.34 million between HTA's Kūkulu Ola (Hawaiian Culture focused) and Aloha ʻĀina (Natural Resources focused) programs. Recipients include nonprofits such as the Edith K. Kanakaʻole Foundation, Ma Ka Hana Ka Ike Building Program, Hui Noeʻau Visual Arts Center, Bishop Museum, Keiki Hula, Hoʻokuaʻāina, Ulu Aʻe, Friends of Auwahi Forest Restoration Project, Hikaʻalani, and so many more.
"Everything just kind of aligned," said Kekona, explaining she never thought she would be managing contracts, but everything she had done led her to the job.  
What's next?
Kekona likes where she's at now, but realizes she needs to move on her educational goals before it's too late. So she's pursuing a Master's degree in Tourism Management online from Colorado State University. 
"I've always been really busy," she said.  "There's always something to do."