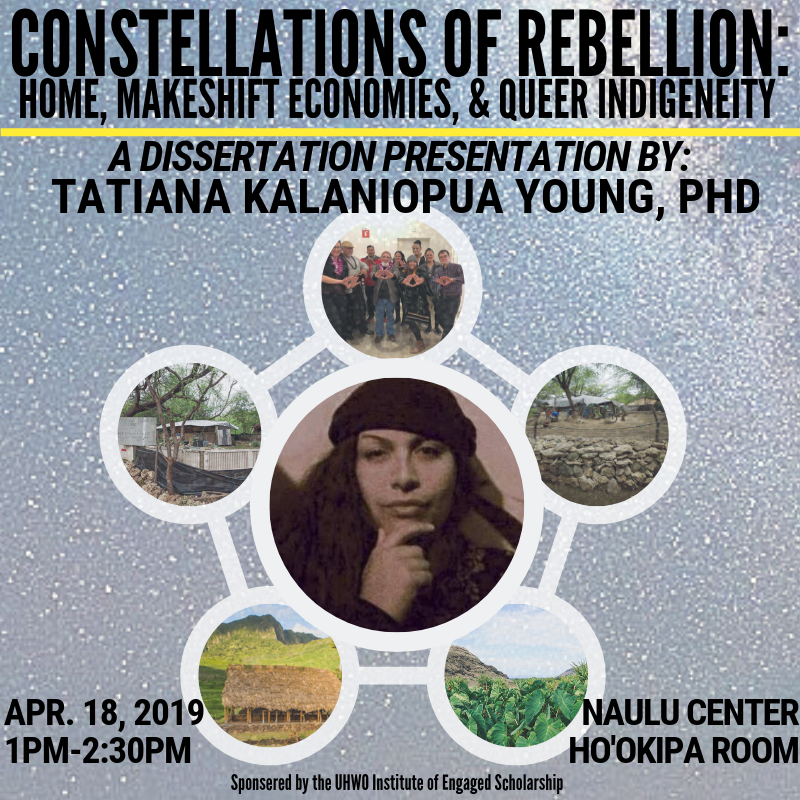 UH West Oʻahu Anthropology Instructor Dr. Tatiana Kalaniopua Young will present her dissertation,  "Constellations of Rebellion: Home, Makeshift Economies, and Queer Indigeneity," next Thursday, in the Nāulu Center.
Young received her PhD in Cultural Anthropology  from the University of Washington, Seattle in this month and currently teaches Anth 152 Culture and Humanity courses at UH West Oʻahu.  Young said she is the first Māhūwahine (Kanaka Maoli transgender woman) to receive a PhD and is the first in her ʻohana to receive a doctorate.
Young's dissertation examines issues related to unsheltered communities in Waiʻanae and Seattle, considering indigeneity, rebellion, and gender identify and other topics along the way in offering a different view of the communities.
Young said her manuscript will be of interest to applied anthropologists, social workers, housing and human rights advocates, indigenous activists and intellectuals, as well as people of conscience.  She said it will also be of interest to scholars working on decolonization, feminist intersectionality relative to class, race, gender, nationality and sexuality as well as contemporary issues of globalization and neoliberalism within the Hawaiian and Pacific Islands context.
The manuscript synopsis says:
"In Waiʻanae, Hawai'i, and Seattle, Washington, the practice of tent city living offers important considerations for what it means to be alive, to be rebellious and to be close to the ʻāina (land/everything that feeds and nourishes).  This manuscript theorizes the radical possibilities of a "home-free" subjectivity that refuses to be anything "less" (homeless, houseless, etc.)"
"Through ethnographic data collection and grounded theory (2014-2018), this work asks: One, how does an applied anthropological and phenomenological analysis of tent city living, indigeneity, and rebellion enunciate the gendered potentiality for a counter-neoliberal insurgency among unsheltered communities and individuals with little means? "
"Two, how do the stories of tent city villagers from Seattle, Washington, and Waiʻanae,  Hawai'i, reconfigure the discourse around cohabitation, direct action and Queer Indigeneity beyond the settler colony?  
"And three, how and in what ways are makaʻainānā (people of the land) and ka poē honua (people of the earth) disrupting abandonment, unsettling sexualities, and decolonizing identity politics and solidarity through chosen family arrangements and makeshift economies?"
Young said her manuscript will be available through Pro-Quest, an online repository through the University of Washington, Seattle.  It will also be submitted to the James & Abigail Campbell Library's repository for faculty research, DSpace, for inclusion once it is off embargo.
The presentation is scheduled from 1 to 2:30 p.m., Thursday, April 18, in Nāulu Center's Hoʻokipa Room. It is sponsored by the UH West Oʻahu Institute for Engaged Scholarship.