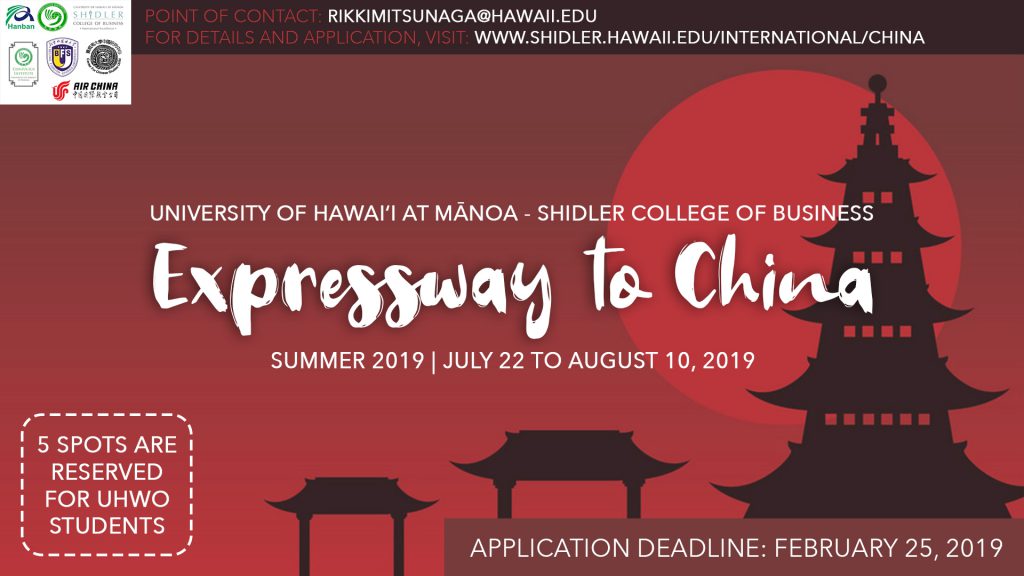 Five positions are open for UH West Oʻahu students for a summer program that includes travel to China where participants will take  language classes and learn about China and its business culture.
The Expressway to China program is an opportunity for students interested in China to gain an introductory exposure to the language, culture, economics, and business practices of the world's second-largest economy. Students must apply by Feb. 25 for the July 22 to Aug. 10 program that costs participants $1,500 to cover the costs of a Chinese visa (valid for ten years), round-trip airfare, travel insurance, and local cell phone. All students must have a U.S. passport.
The University of Hawai'i at Mānoa Shidler College of Business, with sponsorship and grants by the Hanban, Confucius Institute at UH Manoa, Center for Chinese Studies at UH Manoa, Beijing Foreign Studies University (BFSU) and Air China, is offering this introduction to China program. Participants will strengthen their understanding of China and its business culture through language lessons, cultural activities, tours of cultural and historical landmarks, company visits, and talks on intercultural business communication. There also will be opportunities to interact with other college students from China, Europe, and Asia.
The tentative schedule calls for:
July 22 – 24. Pre-departure orientation at UH Mānoa. This will include a crash course in conversational Mandarin, lessons on China's economy, and Chinese business etiquette.

July 27 Depart Honolulu for Beijing

July 29 Arrive in Beijing / Hotel Check-In and tour of Beijing Foreign Studies University.

July 30 – Aug. 6:  Morning classes followed by cultural excursions and company visits in the afternoon.

Aug. 7 High Speed Train to Shanghai/Arrive in Shanghai

Aug. 10 Depart Shanghai/Return to Honolulu
Site visits include historical landmarks such as the Great Wall, the Forbidden City, and Tiananmen Square. Travel between Beijing and Shanghai will be on China's illustrious high-speed bullet train.
In Shanghai, students can practice their language skills while visiting museums, the Bund, and during company tours. The program culminates in Shanghai with students giving a final presentation on their impressions of China.
All in-country costs (double occupancy hotel accommodations, meals, ground transportation, intercity transportation, excursions) and other program-related cost are covered by grants from the Hanban, Confucius Institute at UH Manoa, Center for Chinese Studies at UH Manoa, and BFSU.
There are no tuition costs for this non-credit program, which can fulfill the Asian Studies Certificate practical learning requirement.