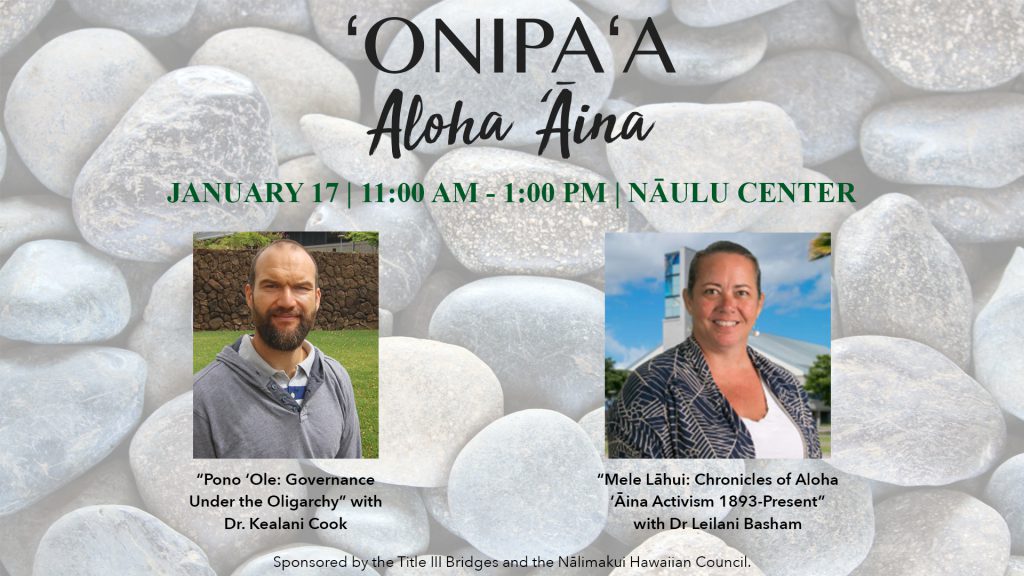 The overthrow of the Kingdom of Hawaiʻi on Jan. 17, 1893, will be observed with ʻOnipaʻa: Aloha ʻĀina, a program that will feature talks by two UH West Oʻahu faculty members.
The program is scheduled from 11 a.m. to 1 p.m., Thursday, Jan. 17, in the Nāulu Center.
Assistant Prof. of History Dr. Kealani Cook will speak on "Pono ʻOle: Governance Under the Oligarchy," while Hawaiian-Pacific Studies Prof. Dr. Leilani Basham will give a talk titled "Mele Lāhui: Chronicles of Aloha ʻĀina Activision 1893-Present."
The Nālimakui Native Hawaiian Council will also have a free working brunch at the same time to discuss 2019 initiatives. The council was formed to provide a formal independent voice and organization through which Native Hawaiian faculty, administrators and students at UH West Oʻahu can participate in development and interpretation of system wide policies related to Native Hawaiian programs, activities, initiatives and issues.   
"We are hoping everyone will stop by to grab something to eat, talk story and get and maybe even share semester updates while also learning something new," said UH West Oʻahu Testing Coordinator Kaiʻulani Akamine, who is one of the council chairs.
Past Nālimakui initiatives have included building council membership, raising funds for programming and scholarships, and advocating for positions and programs that serve and support Native Hawaiians.
Akamine said the councils' goals align with campus initiatives in kaiāulu and education and that it had chosen to kick off the semester with the 2019 Onipaʻa Series as a way of welcoming new and continuing faculty, staff, and students.  
She said the council hopes to build capacity this semester and has switched its meeting days to Fridays to make it easier for instructional faculty to attend meetings. The council also plans to inventory student support programs in an effort to make the great work more visible, and to schedule a summer retreat to help prioritize and vision map for the upcoming semesters.