When Kureha Pambid begins her full-time college career at UH West Oʻahu in the fall, she'll do so with a two-year start on other recent high school graduates.
That's because the soon-to-be 2018 Waiʻanae High School graduate  has done something so rare that she's known as an Academic Olympian – a title coined by Keith Hayashi and Mark Silliman of Waipahu High School – to denote a student who receives an associate degree in addition to their high school diploma. Pambid will step onto UH West Oʻahu's campus after leaving Waiʻanae High School as a valedictorian and member of the National Honor Society, in addition to being a Leeward Community College graduate.
"I was very busy with my schedule," noted Pambid, an award-winning creative media student who attended Waiʻanae High Schools' Ninth Grade Success Academy and its Searider Productions Academy. She also at one-time was a member of the schools' student government and tennis team.
She is the first Academic Olympian from Waiʻanae High School and has achieved all this despite English being her second language. She's been part of Searider Production teams that have won gold awards for graphic design and animation from the Pele Awards, considered Hawaiʻi's top awards competition for advertising and design. One of her teams captured first place for best animated film 2016-2017 from STN Film Excellence, a national competition.
"I would not recommend people do my schedule, but I do encourage people to take early college classes because it will help them out in the future."
Pambid is one of a growing number of high school students taking college courses while in high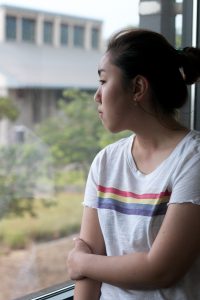 school. This fall UH West Oʻahu will enroll three Academic Olympians — Kureha and two students from Waipahu High School. More incoming high school students with associate degrees are expected on campus in the future as UH West O'ahu's participation in early college programs pays dividends.
Pambid was enrolled in the state's Running Start Program, a partnership between the State Department of Education and the University of Hawaiʻi that allows eligible public and charter high school students to take dual-credit courses in which they earn high school and college credits. In addition to the Running Start Program, UH West Oʻahu also has an Early College program that allows high school students to take college courses delivered on their high school campus, and an Early Admit program that allows students to take college courses on the UH West Oʻahu campus.
UH West Oʻahu's Academy for Creative Media has an Early College partnership with Waiʻanae High School's Searider Productions, Waipahu High School, James Campbell High School, and Kapolei High School that provides high school students with an academic pathway and seamless transition to post-secondary education.
Pambid's journey to UH West Oʻahu began six years ago when she moved from Ibaraki Prefecture in Japan to Waiʻanae. She excelled in her school work and in the ninth grade  received approval to take upper-level math courses. Given her drive and progress with math, Shane Nakamura, Pambid's former counselor at Waiʻanae High School, encouraged her to sign up for the Running Start program. In the tenth grade Pambid started in the Searider Productions program, Waiʻanae High Schools' nationally recognized academy for video production, digital media, and journalism.
"She (Pambid) had to learn how to balance her busy schedule of taking her Searider Productions classes, college courses, sports, internships, and student government," wrote Michael O'Connor, a digital adviser for Searider Productions, and coordinator of the Waiʻanae High School Searider Productions Early College Program, in an email. "Most students would crumble under the pressure. For Kureha, it only made her more determined."
Pambid credits Searider Productions for teaching her time management, something that was an essential ingredient for juggling her many obligations. On a typical day she would spend 3 hours on homework and sometimes toil into the night to meet deadlines. Her weekends, reserved for friends, family and rest, were sometimes given to working on graphic design, animation, or films for competitions. If a college class wasn't offered at her school she would ride a bus to Leeward Community College.
O'Connor wrote he had never met a student like Pambid: "She has tremendous drive and perseverance unlike anyone I know. When she is determined to do something, she makes sure she completes it on time and with quality."  
Said Nakamura, her former counselor, "This is an outstanding accomplishment. As long as I have known Kureha, she was always a very ambitious student who needed to be challenged academically."
Pambid was accepted into Creighton University, Columbia College Chicago, Ringling College, and other schools, including University of Nevada, Las Vegas, which offered her a scholarship.  She decided to stay home given the community and family support has here, the number of people she knows in UH West Oʻahu's Academy for Creative Media, and the inspiration she can draw from nature here.
"I could have time to give back to the community," Pambid said in an email. "I was busy this semester but I will have time to do those kind of things."  
Images courtesy of UHWO Staff and ACM