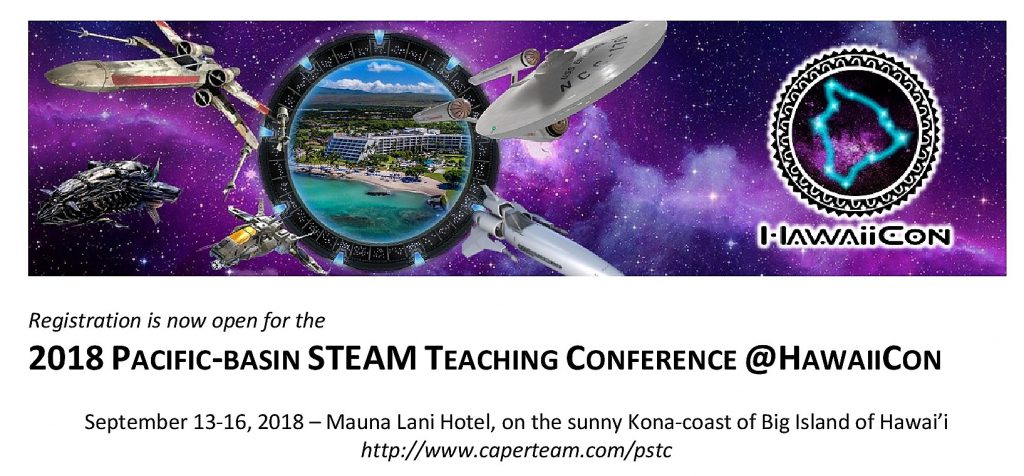 Dr. Richard Jones, UH West Oʻahu associate professor of education, has been selected as co-chair of the Pacific-Basin STEAM Teaching Conference that will be held as part of the HawaiiCon Science Fiction Convention in September.
"If you want to learn how robotics can be used in your classroom, if you want to get certified to have actual moon-rock samples from NASA delivered to your classroom, and if you want to learn how to use comic books to teach your hardest to reach students; This is the conference to attend," said Jones, who will chair the conference with Dr. Tim Slater, University of Wyoming Excellence in Higher Education Endowed Chair of Science Education.
The conference is designed to provide teachers with innovative strategies to captivate students' interests from popular culture, science fiction and science to better teach concepts of STEAM (Science, Technology, Engineering, Arts, and Mathematics) from the state standards. The meeting runs concurrently with HawaiiCon, a gathering of science fiction fans, comic book enthusiasts and others to come hear and see stars of science fiction shows, as well as comic artists and game designers. This year actors Colin Ferguson, Kate Vernon, Luciana Carro and Femi Taylor are scheduled to attend.
The wide-ranging conference with multiple-parallel sessions includes a Jr. Geek Filmmakers Competition and a Jr. Costume CosPlay Runway Show.  "At the Pacific-basin STEAM Teaching Conference, the letter "A" in STEAM is just as important as the other letters. At this conference, you'll interact with well-known professional artists, filmmakers, game designers, writers and actors from the science fiction, fantasy, and comics industry," Jones said.
HawaiiCon also serves as a fundraiser for STEAM education for children in Hawaiʻi County, where the conference is being held. This year's annual conference is held at the Mauni Lani Bay Hotel and discounted HawaiiCon conference rate rooms are available. Registration for the four-day conference from Sept. 13 to 16 is $169, with a discounted price of $99 available to those paying by May 15.
The conference also hosts a team of internationally-recognized teacher educators who provide professional development on a wide-range of classroom-ready STEAM instructional materials.  The conference will provide registered teachers with a mix of participatory hands-on workshops and scholarly presentations focusing on successfully teaching STEAM principles in the classroom. There are also opportunities to earn PD-units, CEU-certificates, and graduate credits.
Jones will also do a workshop presentation, as will Dr. Ken Hon, a University of Hawaiʻi at Hilo volcanologist and other educators from across the country.  "This conference," Jones said, "is a great opportunity for educators and future teachers to upgrade their STEAM teaching toolkit."  
Images courtesy of UHWO Staff and HawaiiCon