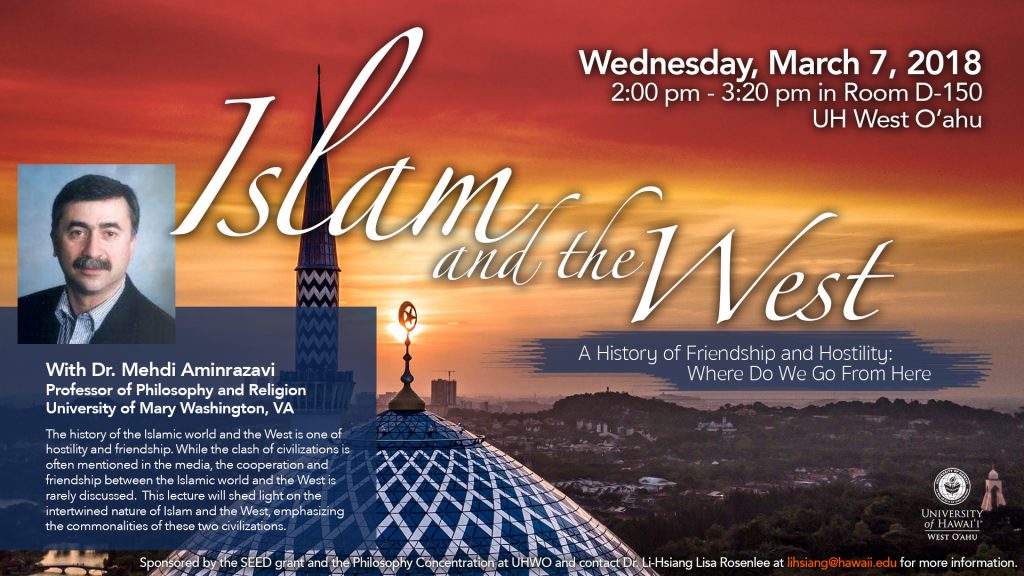 Dr. Mehdi Aminrazavi, a professor of philosophy and religion and co-director of the Leidecker Center of Asian Studies at the University of Mary Washington in Fredericksburg, Va., will speak on "Islam and the West: A History of Friendship and Hostility: Where Do We Go From Here" from 2-3:20 p.m., March 7, in D150.
Aminrazavi is a native of Iran and has been published in Persian and English. He has received a number of awards in the United States and internationally, and is a member of the American Academy of Religion, the American Philosophical Association, and the Middle Eastern Society of America.
His talk will delve into the relationship between the Islamic world and the West, which is one of hostility and friendship. The clash of these two is often mentioned in the media, while the cooperation and friendship between the Islamic world and the West is rarely discussed.  The lecture will shed light on the intertwined nature of Islam and the West, emphasizing the commonalities.
Aminrazavi is a member of the editorial board of the Journal of Religious Studies (Cambridge, England), he is the author and editor of numerous books and articles, among which are The Islamic Intellectual Tradition in Persia (1996), Philosophy, Religion and the Question of Intolerance (1997), Suhrawardi and the School of Illumination (1997), The Wine of Wisdom (2005), and Islamic Philosophy & Theology: An Online Textbook for Colleges (2010).
Also, he is co-editor of the five-volume set, An Anthology of Philosophy in Persia, including Volume 1, Volume 2, and Volume 3. In 2010, the anthology was recognized as one of the superior books in the field of humanities at the 23rd annual Tehran International Book Fair.
The talk is sponsored by a SEED grant and the Philosophy concentration at UH West Oʻahu. Aminrazavi is also speaking on March 6 at 9:30 a.m.on the UH West Oʻahu campus as part of the "On Friendship: East and West" lecture series. His lecture in D145 is titled "Friendship in Islam — An Ontological Analysis."
Image courtesy of UHWO Staff