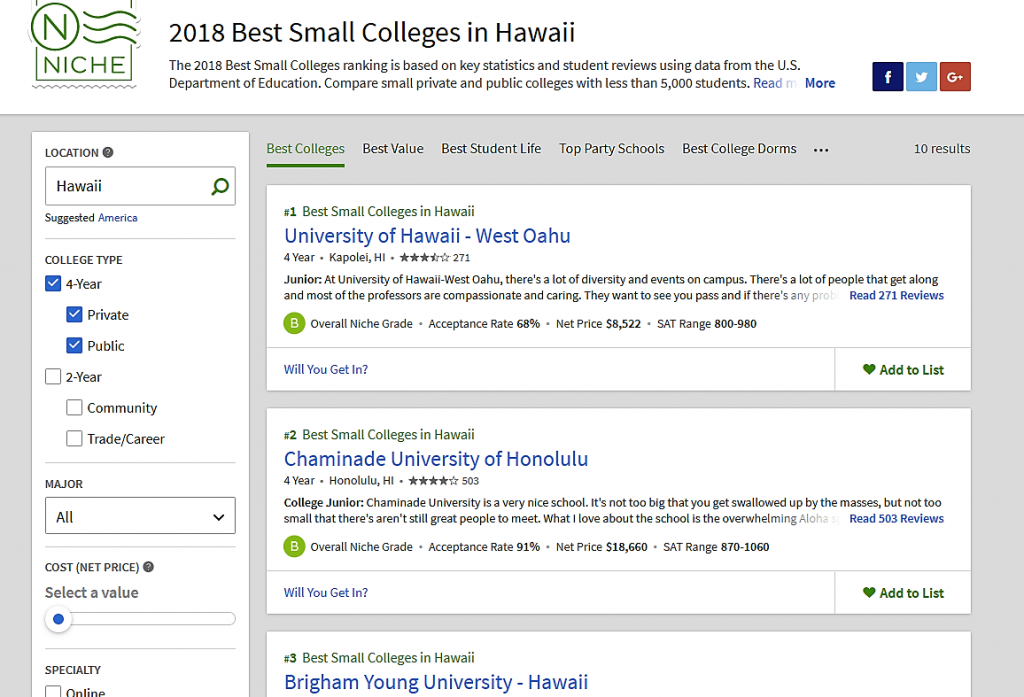 UH West Oʻahu ranked as the Best Small College in Hawaiʻi, the Best Online College in Hawaiʻi, and No. 2 when it came to Best Colleges in Hawaiʻi (big and small) and Top Public Universities in Hawaiʻi, according to rankings for 2018 by Niche.com, a website that analyzes public data sets to produce rankings, report cards and profiles for colleges and other schools.
UH West Oʻahu was given an overall grade of "B," after Niche reviewed academics, value, professors, student life, student survey, campus quality, diversity, local area, and safety. UH West Oʻahu earned its highest category grade of A+ for safety and its lowest of C for location, while professors graded out at a B+ and academics received a B-.  There were no grades earned for athletics, dorms or campus food.
"I loved my school," wrote an alumnus who was quoted by Niche and awarded the school five stars. "The campus is still new and growing and growing.  The class sizes are small so you get the most out of the classes and you aren't just a number."
Only the University of Hawaiʻi at Mānoa received higher grades out of the eight colleges Niche ranked in Hawaiʻi, earning a B* overall grade.
Image courtesy of UHWO Staff