A paper co-authored by UH West Oʻahu's Dr. Bill Belcher on health impacts that occurred as residents of embraced new metallurgical and agricultural technologies in Southeast Asia during the proto-historic period has been published by the journal Asian Perspectives.
Rona M. Ikehara-Quebral, a Senior Bioarchaeologist at International Archaeological Research Institute, Inc. in Honolulu was the lead author of the paper,  Biocultural Practices during the Transition to History at the Vat Komnou Cemetery, Angkor Borei, Cambodia, which was produced after reviewing human skeletal, zooarchaeological and botanical data from the Lower Mekong Archaeological Project.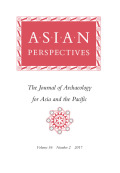 Ikehara-Quebral, Belcher and six colleagues investigated the biological implications of cultural practices using the skeletal and dental data recorded from the Vat Komnou cemetery in Angkor Borei, an area that is in the northern Mekong Delta. Belcher, an assistant professor of Anthropology, and  Voeun Vuthy examined the zooarchaeological (animal) remains for this project.
The authors note that the Mekong Delta was the center of the kingdom of Funan, or the first civilization in mainland Southeast Asia showing the hallmarks of statehood. The authors examined how changes brought about during this early state formation (between 200 B.C.E. (Before Common Era) and 200 C.E. (Common Era) to understand the health impacts of the changing environment.
Co-authors included Miriam T. Stark, a Professor of Anthropology at the University of Hawai'i at Mānoa, Michael Pietrusewsky, Professor Emeritus at the Department of Anthropology, UH Mānoa, and Michele Toomay Douglas, an affiliate graduate faculty at the Department of Anthropology, University of Hawai'i at Mānoa.
Also, Voeun Vuthy, Director of Archaeology at the Ministry of Culture and Fine Arts in Phnom Penh, Cambodia, John Krigbaum, an Associate Professor of Anthropology at the University of Florida, Gainesville, and R. Alexander Bentley, Chair of the Department of Anthropology at the University of Tennessee, Knoxville.
The article was published in Volume 56, Issue 2, 2017 of Asia Perspectives, The Journal of Archaeology for Asia and the Pacific.
Images courtesy of Linda L. Kohlstaedt and UHWO Staff