UPDATE: The UH West Oʻahu staff and faculty intramural kickball game scheduled for August 5 is postponed due to weather and scheduling conflicts. Stay tuned for future staff and faculty intramural sports events every third Wednesday of the month including kickball, modified softball and volleyball.
The UH West Oʻahu staff gathered during lunch on July 29 for a laughter-filled game of kickball.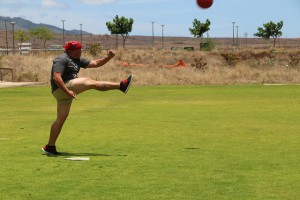 Organized by Intramurals Coordinator, Ryan Perreira, future plans call for another faculty/staff kickball game on August 5, and volleyball on August 12. Ryan intends to hold one faculty/staff intramural game per month. Inform Ryan of your intention to participate by emailing imwest@hawaii.edu.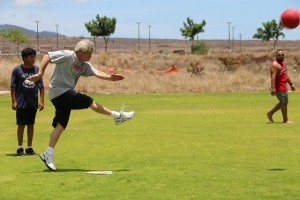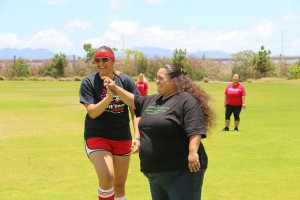 Check out the flickr album here.