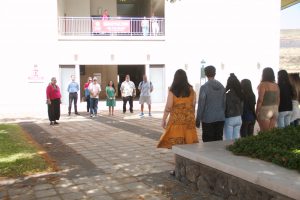 Top administrators from Te Whare Wānanga o Awanuiārangi visited UH West Oʻahu to meet with Chancellor Maenette Benham and their counterparts on Wednesday, June 21, 2017.
Prof. Nathan Matthews, head of Indigenous graduate studies, and Jacqueline Thrupp, senior administrator for the Aotearoa, New Zealand Māori university, discussed approaches to Indigenous education and possible opportunities with UH West Oʻahu. Awanuiārangi is a Māori institution of higher learning dedicated to promoting, growing and sustaining Māori language, knowledge and culture. It is a provider of educational programs ranging from community education to bachelor, master, and doctoral degrees.  
Among UH West Oʻahu staff that met with the delegation: Vice Chancellor for Academic Affairs, Jeffrey Moniz, Vice Chancellor for Student Services, Judy Oliveira, and the Konohiki (Facilitator) of Kulana o Kapolei – a Hawaiian Place of Learning, Manulani Aluli Meyer. Awanuiārangi also met with four members of the Purple Mai'a project – a creative, cultural, and high-quality tech group working with UH West Oʻahu's Creative Media program.