At night when Jamie McOuat tucks her son, Kaimana, in for bed, his request is for her to "sing the lullaby you wrote for me, mommy."
McOuat created an original song for her 2-year-old by participating in The Lullaby Project – a collaborative musical effort between Leeward Community College Theatre, the University of Hawaiʻi – West Oʻahu Humanities-Music Program, and Honolulu Community College's Mike Curb MELE Studios. The Lullaby Project is facilitated by Carnegie Hall's Weill Music Institute nationwide. Pregnant women and new mothers work with professional artists to write personal lullabies for their babies, supporting maternal health, aiding child development and strengthening the bond between parent and child. McOuat was one of 10 parent participants in the Hawaiʻi program this year.
McOuat sings lullabies to Kaimana every night and has always wanted to write for him—her "miracle baby" whom she had at 52 years of age. She was paired with John Signor, the music instructor at Leeward CC. "Every time John would try something, like a riff or transition to the next line, I thought, 'Wow, you never get to actually see creativity happening.' And every time I agreed with what was just seemed to be spontaneously channeling through him, I was giggling with delight and actual amazement that he was creating on the spot. It was a complete surprise to me that he appeared equally impressed that I had arrived with the lyrics written. I had done a free write exercise for an hour before I got there and that's what I'd come up with."
Parent-songwriter collaboration performance
Her original song, "Kaimana's Song," is one of the lullabies created from parent-songwriter collaborations that will be performed by the Leeward CC Hawaiian Ensemble on April 29, at UH West Oʻahu. A preshow featuring a Songwriting Hōʻike by UH West Oʻahu songwriting students kicks off the event at 4:30 p.m., followed by the Leeward CC's Hula Ensemble at 6 p.m. and the Leeward CC's West African Drumming Ensemble. The Lullaby Project songs will be performed at 7 p.m. and feature community guest artists and songwriter facilitators including Paula Fuga, Daniel Houglum, Starr Kalahiki, Ehulani Kane, Czarina Lai; and Joshua Nakazawa and Rami Gepner from the Hawaiʻi Symphony Orchestra. Admission is free. The event is supported by the UH West Oʻahu Chancellor's office and the UH West Oʻahu Music Fund.
Weaving old memories with future ones
Another parent participant, Kauluwehi Kato, a recent UH West Oʻahu graduate, said that she participated in the Lullaby Project because of it's unique potential. "We spilled all of our love and memories into one song, so that we could share it with our little one. This song is truly a gift for both my baby and my entire family." Kato participated in the program while pregnant—allowing the song-making process to bring together the prospect of singing an original song to her baby and the excitement of finally meeting her little one.
"There were a lot of tears," she said. "I couldn't help but reflect on my own childhood memories and how much I enjoyed it. I just want the same for my little one. This process was like weaving a lei of old memories entwined with new memories to come."
Leeward CC's Hawaiian Ensemble, under Signor's direction, is spearheading the arranging, recording and performing of the new Hawaiʻi-based lullabies, with help from UH West Oʻahu faculty Daniel Houglum and Jon Magnussen, and faculty from Honolulu CC's Mike Curb MELE Studios, John Vierra and Jon Ross. This year, The Lullaby Project involves expecting moms from Catholic Charities Mary Jane Home, student-parents from UH West Oʻahu and Leeward CC, and parents from other community partnering organizations including Alu Like and Family Hui Hawaiʻi.
"It was incredible, seeing creative genius happen in real time before my eyes," said McOuat, who works for Family Hui Hawaiʻi. She said the process took about 45 minutes. Then she and Signor performed for the other collaborators.
"The funniest bit was when I got home because the song was originally called Hazel Eyes and it was in all three refrains," McOuat said. "My husband says 'very nice but Kaimana's eyes aren't hazel.' They were blue when he was born, had changed to hazel like mine, but now they're full on brown. Bad mommy!"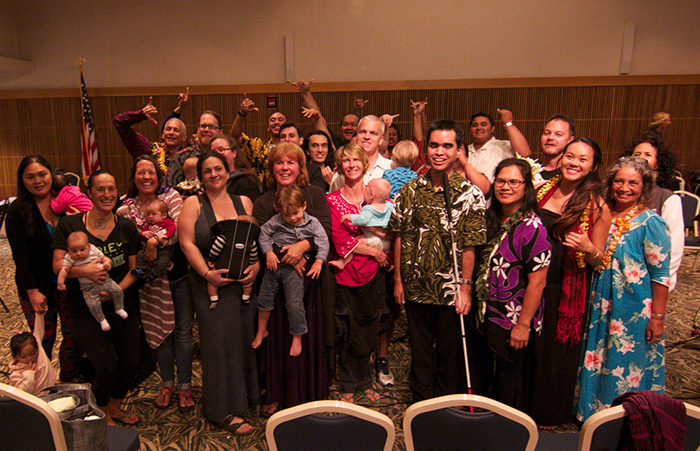 Images courtesy of Nickolas Esopenko and
UHWO Staff