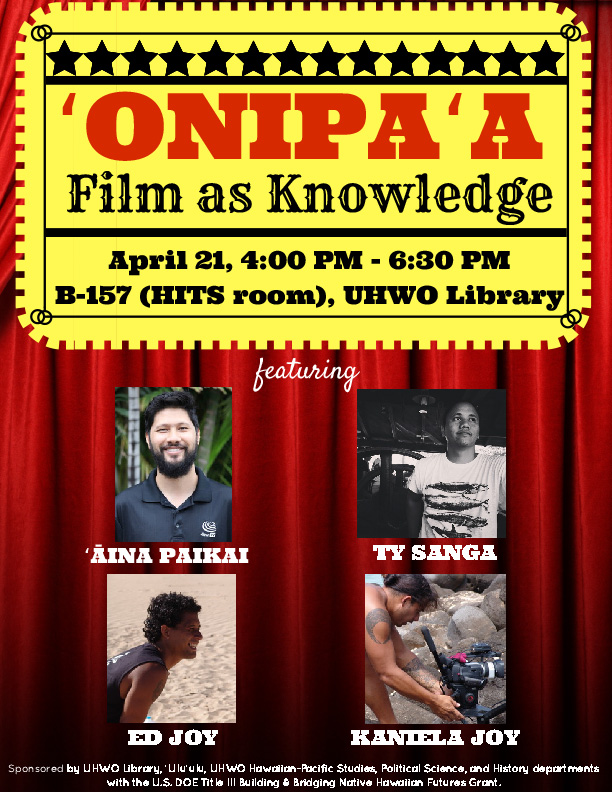 The last ʻOnipaʻa panel of the spring 2017 semester features Kānaka Maoli independent filmmakers sharing their research and showcasing their films, demonstrating how film can be a vehicle for cultural revitalization, and community building as well as social transformation. ʻOnipaʻa: Film as Knowledge, is presented on Friday, April 21, from 4 to 6:30 p.m. in the UHWO Library room B157 (HITS room). Featuring speakers ʻĀina Paikai, Ty Sanga, Ed Joy, and Kaniela Joy, this is the first ʻOnipaʻa panel to be broadcast to other UH campuses through the ITV system (UH West Oʻahu, UH Maui College, Kona, Hawaiʻi CC Pālamanui, and UH Mānoa).
ʻĀina Paikai is from Waiau, on the island of O'ahu. He is a Native Hawaiian filmmaker that is interested in bolstering the Hawaiian film industry. He received his bachelors degree from the University of Hawaiʻi at Mānoa Academy for Creative Media.  His student short films have screened locally at the Hawaii International Film Festival, nationally at the San Francisco International Asian American Film Festival, and internationally at the Shanghai International Film Festival.  In 2013 he was chosen amongst hundreds of applicants to the Sundance Native Lab Fellow, selected for his talent in screen writing. ʻĀina currently works as a photographer and editor for 'ŌiwiTV, which is an indigenous focused channel that tells stories from a native point of view.
Ty Sanga's wonderful Hawaiian language film, "Stones", screened at the prestigious Sundance Film Festival in 2011. His graceful depiction of the Hawaiian legend illustrates his authentic voice and visual style. Sanga is a prolific storyteller, a talented director and a man with a message. He participated in the Sundance Native Lab Fellowship with his feature film "After Mele" starring Jason Scott Lee and a stable of up in coming Hawaiian actors.  His food travel show, "Family Ingredients", is currently in production for Season 2 and has been nominated for a Daytime Emmy. His latest feature documentary, "Visions in the Dark: The Life of Pinky Thompson", premiered at the Hawaiʻi International Film Festival and will be airing nationally on PBS in 2017.
Filmmaker Ed Joy began a journey four years ago, along with his brothers and fellow filmmakers,when he decided to put together a production company and create a film that expressed the often misinterpreted values and ignored view-points of the local and Hawaiian residents. He got his inspiration during his time spent as youth social-worker.
Filmmaker Kaniela Joy learned his craft by paying close attention to what went on behind the camera, as well as in front, as a model/actor. He did more than just add his acting experience and production knowledge to the project, he also made several contributions to the screenplay and musical score, and is an accomplished musician as well.
ʻOnipaʻa: Film as Knowledge is sponsored by the UHWO Library, 'Ulu'ulu, UHWO Hawaiian-Pacific Studies, Political Science, and History departments, along with the U.S. DOE Title III Building & Bridging Native Hawaiian Futures Grant.