Contemporary Samoan Author and Artist Sia Figiel will launch and read from her latest book, "FreeLove" for UH West Oʻahu students, faculty, staff, and community members on Monday, April 25.
11 a.m. – 12:15 p.m. in C225
Book launch, reading and performance
12:30 – 2 p.m. in D146
Discussion and potluck lunch. Contact Niko Patu at patu@hawaii.edu to participate in the potluck.
The presentation and performance is sponsored by the UH West Oʻahu Humanities Division and UH West Oʻahu English and Hawaiian Pacific Studies departments.
Sia Figiel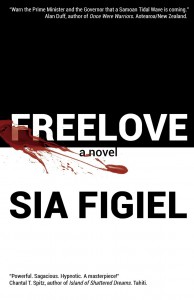 Images courtesy of Sia Figiel and Loihi Press