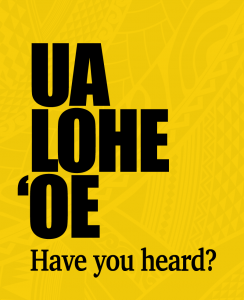 Ua lohe ʻoe? (Have you heard?)
ʻO ka ʻŌlelo Hawaiʻi o ka pule ʻo (The Hawaiian word of the week is) ola (life, health, well-being, living).
Ua Lohe ʻOe is brought to the UH West Oʻahu ʻohana by the UH West Oʻahu PIKO Project, which is funded by a U.S. Department of Education Title III grant.
Image courtesy of UH West Oʻahu